NSW Oyster Conference
Coordinating Biennial Statewide Oyster Conference
NSW Oyster Conference
Coordinating Biennial Statewide Oyster Conference
Building our Future
-
LLCI032-004
The issue
There are very few opportunities for oyster farmers, gear suppliers, government representatives and other industry stakeholders to get together on a statewide scale. Researchers are also provided with very few opportunities to address farmers, and present research & findings to whole of industry.
The solution
OceanWatch chaired an organising committee for the 2017 NSW Oyster Conference, which included representatives from NSW DPI, Select Oyster Company, NSW Farmers Association, and oyster farmers from 4 different growing regions of the state. The cost of the conference was heavily subsidised with the support of sponsors & trade show exhibitors, with a 3-day ticket price costing a meagre $95. The program included something for everyone - dedicated exhibition area, a trade & networking BBQ, a variety of field trips and workshops, conference sessions and also a formal dinner.
The impact
The conference was a great success, and brought together over 200 people across the 3-day. This was the largest turnout for an oyster industry event in Australia since the National Oyster Conference in 2013. The conference also empowered farmers to take a lead, with different farmers leading field trip excursions, and MC'ing sessions in the conference. A few direct quotes from attendees:
"It was the first time I've come to a conference, and I learnt a lot"
"Great chance to catch up with local growers, distant growers, scientists and administrators"
"Talks were very informative, relevant to our industry and easy to understand"
"What a cracker of a Conference. So many young people, so many woman and real interest in research, new techniques and approaches"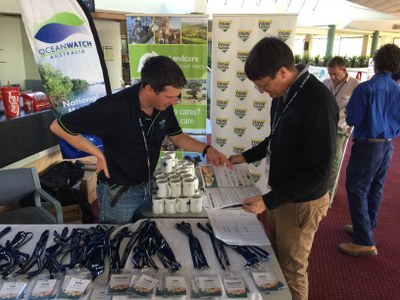 Key facts
Over 200 oyster farmers & industry stakeholders attended
Included exhibition area, a trade & networking BBQ, a variety of field trips and workshops, conference sessions and also a formal dinner
Extremely positive feedback and enthusiasm for similar events in the future
Project Partners