South Coast Travelling Workshops
Half Day Workshop Enhancing Farm Businesses
South Coast Travelling Workshops
Half Day Workshop Enhancing Farm Businesses
Building our Future
-
LLCI032-006
The issue
Oyster farmers require a broad spectrum of knowledge - from legislation and regulatory requirements, through to an understanding of catchment management and environmental processes. Communication and extension of information to the industry has never been strong, and whilst research and projects are undertaken, farmers are either not privy to the results, or need to invest considerable time attending workshops and meetings.
The solution
Working in partnership with Sapphire Coast Wilderness Oysters and South East Local Land Services, a series of intensive travelling workshops were organised across the south coast of NSW. These half-day events provided an opportunity for farmers to get together, discuss issues, hear from research updates and learn about a range of topics including: farm management tools; grading & marketing; oyster breeding program; environmental monitoring; industry structure & representation; communication platforms; industry value; biosecurity; marine pests; climate change adaptation & more... The workshops funded primarily by South East Local Land Services.
The impact
Around 65 farmers participated in the workshops across 4 locations on the NSW south coast. The range of information presented was broad and provided farmers with a time-efficient way to get all the latest news & information. With four workshops across the south coast, farmers mingled with producers from other estuaries, gaining an insight into their issues & industry perspectives. Morning tea and lunch presented farmers an opportunity to informally engage with a range of presenters (researchers, managers, consultants, eNGO's), put faces to names and build these relationships.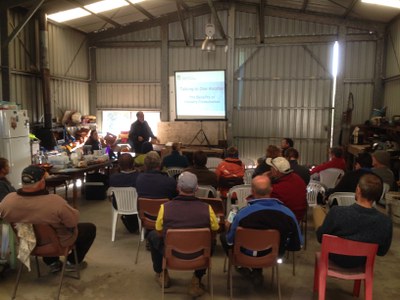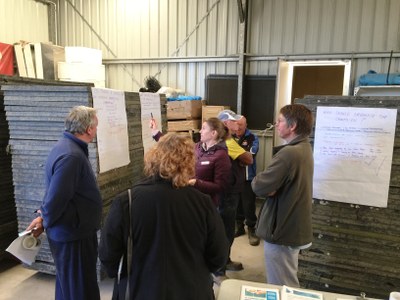 Key facts
65 oyster farmers participated across 4 south coast locations
Intensive half-day workshops provided a time-efficient way for farmers to get all the latest news & information
The event featured a series of round-robin workshops & up-front presentations
Project Partners