Statewide Communications
Developing A Communication Toolbox
Statewide Communications
Developing A Communication Toolbox
Reaching Out
-
LLCI032-001
The issue
Spread across 1,400 km of coastline, NSW oyster farmers face considerable challenges communicating and networking with others in the industry. There are too few opportunities for farmers to discuss issues and solutions, and as a result many farmers feel isolated. In the absence of designated communication channels, innovations, new research and industry news is not being effectively extended across oyster producing estuaries in NSW.
The solution
OceanWatch Australia has developed a suite of communication tools to assist the entire NSW oyster industry. This includes a bimonthly oyster newsletter, a centralised NSW oyster industry website (www.nswoysters.com.au) and a NSW oysters facebook group
The newsletter was the first developed, extending relevant news & information consolidated over the previous two months. Access to timely information is important, and a website was established to extend time sensitive news and to provide an archive of oyster industry materials. Both newsletter & website provide one-way communications.
To promote two-way interaction, a Facebook group was established encouraging farmers to engage and discuss issues and news.
The impact
It's evident that these new communication channels have been very well received by industry.
"Congratulations mate, the website is awesome its exactly what our industry needs"
"Love the NSW oysters website"
"Keep up the great work on the new NSW oyster newsletter"
"I think your newsletter is a breath of fresh air - very well done!"
"Thanks for this great Facebook page. What a fabulous way for growers & industry members to communicate"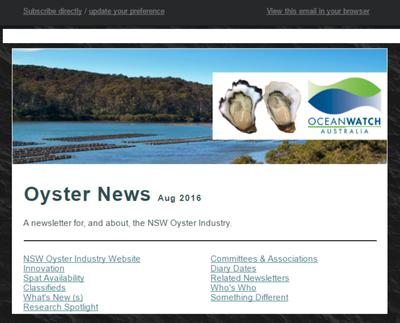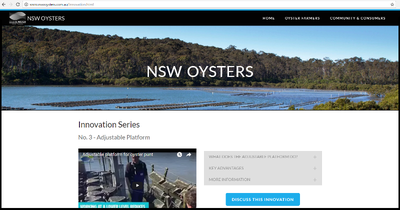 Key facts
Suite of communication tools developed
Promotes farmer interaction and online discussion
276 subscribers to the NSW oyster newsletter
~1000 views across 3 innovation videos distributed