The story of the Southern Corroboree Frog
Moving a Mountain
The story of the Southern Corroboree Frog
Moving a Mountain
Stronger Together
-
LLCI021-004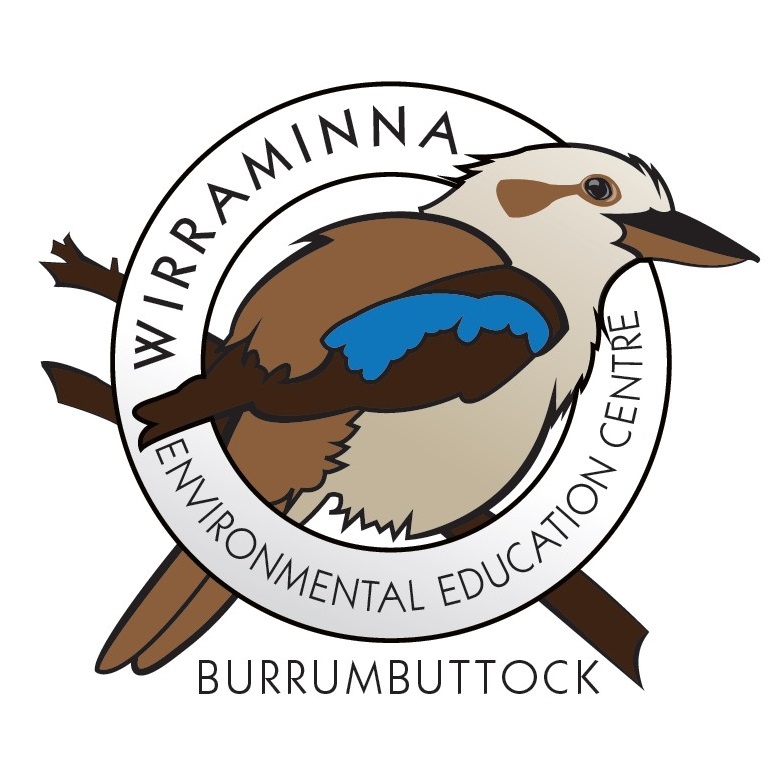 The issue
Once upon a time, high up in the bogs and swamps of the Kosciuszko National Park lived a tiny little frog, only 2.5cm long, with vivid yellow and black stripes, called a Southern Corroboree Frog.  A big bad fungus was smothering the frogs, and feral animals, weeds and humans were destroying their homes. They lived soooo far up in the mountains and were soooo tiny that nobody knew of their plight.
Then, one day in 1998 a team of ecologists were visiting the area. "Where did all the Southern Corroboree frogs go?" Dr Will Osborne asked. They searched and searched and searched, only to find a fraction of the population still alive. They feared the frogs would become extinct if nothing was done to save them.
The solution
From then on, a Corroboree Frog Recovery Project team was formed but it would take a lot of time, money and expertise to reverse the situation. "Finding a solution all starts with school children and members of the public" decided ecologist Dr Dave Hunter. He knew that giving everyone a chance to meet the Corroboree Frog would help spread the word of their looming terrible fate and the key threats to Australia's biodiversity.
But how can all the children go up the mountain? The high-altitude sphagnum bogs will be trampled even more! The Recovery Program team thought and thought and thought. What if we take the mountain to the children?
The impact
Now in 2017 it is very exciting. Some Corroboree Frogs are living in specially designed research facilities for breeding to re-introduce healthy frogs, tadpoles and eggs free of the deadly Amphibian Chytrid Fungus, into the wild. Some frogs are living in Tumut, Jindabyne, Ballarat and Burrumbuttock in climate-controlled, sphagnum moss-filled displays to simulate a mountain environment for everyone to see.
Eight lucky frogs from Taroonga Zoo found a home at Wirraminna Environmental Education Centre at Burrumbuttock (a small village 50km north of Albury) in 2013. They are making friends with the children of the Murray and Riverina through the Creative Catchment Kids program and visitors to the park. The children love to be involved in caring for the frogs and telling their families and friends the story of the Corroboree Frog. Public involvement and awareness of this recovery program is crucial to maintaining momentum, sponsorship and funding.
It is too early to say if they all lived happily ever. 
To find out more about Southern Corroboree Frogs  Click here 
www.wirraminna.org.au OR www.corroboreefrog.org.au
Corroboree Frog photo: Dave Hunter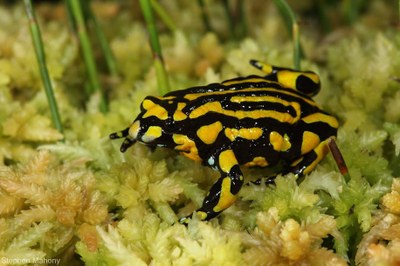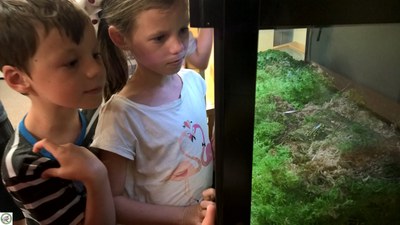 Key facts
Pseudophryne corroboree or Southern Corroboree Frogs (SCF)
critically endangered at state & national level
has declined in 98% of its range since the mid-1980s
maybe less than 40 left in the wild
currently 800 in captive breeding programs at various sites
Project Partners