Out door education, where nature is the classroom
Biodiversity fun at Wirraminna - a place of discovery and learning
Out door education, where nature is the classroom
Biodiversity fun at Wirraminna - a place of discovery and learning
Capacity to Deliver
-
LP018-008
The issue
Petaurus Education Group provides high quality educational outreach programs to promote and inspire the next generation of Australians to discover and explore science and innovation. A very popular means for achieving these goals are school excursions to Wirraminna Environmental Education Centre in Burrumbuttock and incursions 'gala days' at a school or near-by nature reserve. 
The solution
A trip to Wirraminna is an immersive experience for the students and teachers.  The park is 5-hectares of restored woodland with lots of learning spaces in different settings, clear pathways to move around, toilets, tables and even an in-door discovery centre.  A 'gala day' means we come to you and make use of natural spaces in or near the school. 
The Wirraminna and Petaurus team offer programs and activities tailored to suit the location, group size, age, syllabus outcomes and the season. We have found that mixing 'moving around' activities like bush treasure hunt, ghost-animal bingo, 'the glider game' and macro-invertebrates, where the students move through-out the site, with contained sessions like the 'Southern Corroborree Frog experience', 'Indigenous Art and nature' and 'solar cars', help the students focus, learn and hold their attention throughout the day.   
The impact
The activities promote brainstorming, communication activity, critical thinking activity, data manipulation and interpretation, practical activity and problem solving and are also based on the five steps of the sustainability action process, make the case, explore, plan, take action and reflect.  
During 2022 the whole of Glenroy Public School went to Wirraminna over four separate days. It was so much fun. The sessions covered the ScOT topics: Environmental sustainability, Sustainable development, Environmental impact, Biodiversity.
Many of the activities can be accessed on the Wirraminna website  https://www.wirraminna.org.au/resources/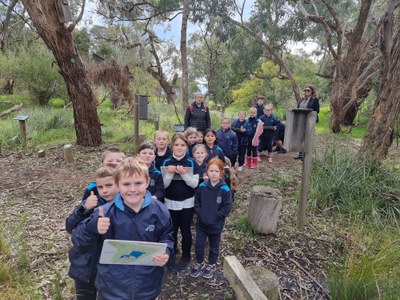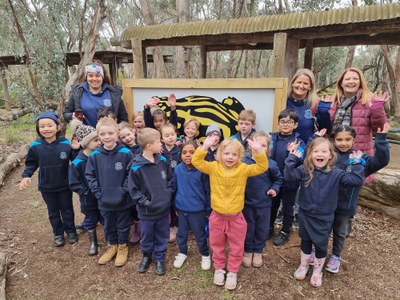 Key facts
Sustainability Action Process
1. make the case
2. explore
3. plan
4. take action
5. reflect
Project Partners