Deniliquin Lagoons – Threatened Species Breeding Program
Community - government partnership project to improve the natural and socially important values within the Deniliquin lagoons
Deniliquin Lagoons – Threatened Species Breeding Program
Community - government partnership project to improve the natural and socially important values within the Deniliquin lagoons
Community Participation
-
LP020-002
The issue
One of the aims of the Deniliquin Kolety Lagoons Landcare Group has always been to establish source populations of threatened wetland fish species that are locally extinct or rare. With the Barham lakes threatened with development plans, the group acquired a licence to catch and relocate Eel-tailed catfish (Tandanus tandanus) and other native fish from Barham to the Deniliquin lagoons. Over the past 18 months, 40 catfish of varying sizes were successfully relocated and have now been observed nesting in Waring Garden's lagoon for the past two summers.


The solution
Rehabilitation of the lagoons started a decade ago with major works resulting in five lagoons currently restored with wetland vegetation and habitat. With the wetland habitat now significantly improved a second key, long-term objective of establishing breeding populations of locally threatened native fish species is now underway.

The threatened species breeding program will soon see the introduction of other threatened species in the coming months and years. The first southern pygmy perch (Nannoperca australis) have been released in February 2020, with other species such as Purple-spotted gudgeon (Mogurnda adspersa) and Olive Perchlet (Ambassis agassizii) targeted within the breeding program.
The impact
Recent monitoring yielded excellent numbers of young catfish, indicating breeding occurred in both the 2018/19 and 19/20 summers. Size variations in the young catfish indicate multiple breeding events have occurred each summer with the youngest having just left the nest. In addition, Flat-headed gudgeon (Philynodon grandiceps) and Carp gudgeon (Hypseleotris spp) are also successfully breeding.

Many considered the groups threatened species breeding program to be very ambitious. There are a lot of habitat and breeding requirements, and rules and regulations that need to be considered. These results demonstrate how local expertise, passion and enthusiasm from community groups, with support from the Edward River Council, Murray Local Land Services, and NSW DPI Fisheries, can produce outstanding social and environmental results.        
Thanks go also to Deniliquin High School students and teachers for being a part of the Landcare movement in our town.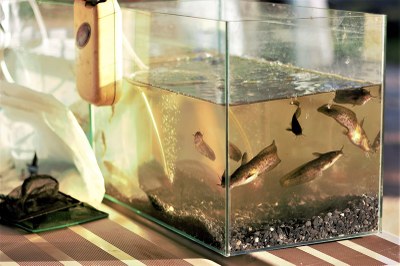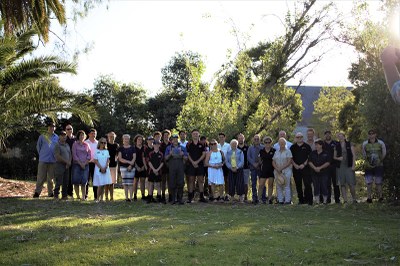 Key facts
Recent monitoring yielded excellent numbers of young catfish indicating breeding occurred over the last two summers
Size variations in the young catfish indicate multiple breeding events have occurred each summer with the youngest having just left the nest.
Flat-headed gudgeon (Philynodon grandiceps) and Carp gudgeon (Hypseleotris spp) are also successfully breeding
Project Partners