This listing has no current Administrator, if this is your group then contact
Gateway support
to arrange for access.
The Richmond Birdwing Conservation Network (RBCN) is an affiliation of individuals, groups and organisations dedicated to the conservation of theRichmond birdwing butterfly(Ornithoptera richmondia) and its host plants, the Richmond birdwing vine(Pararistolochia praevenosa) and mountain aristolochia (P. laheyana). The RBCN strives to achieve this aim through establishing vine refuges, as well as creating awareness and support for conservation in the broader community.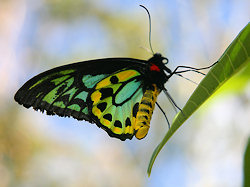 The Network partners with other like-minded organisations and provides members with scientific-based information to cultivate and care for birdwing vines.
(Text and picture courtesy of the Wildlife Queensland)
Download group KML