The Rozelle Bay Community Native Nursery and associated Bushcare Groups are reintroducing some of the diverse range of local provenance plants that once grew in the area.
Local provenance species and strains have adapted to their local area's climate, rainfall patterns, salt water innundation, sunlight, soil, birds, animals, insects and other plants.
The 2012 purpose built Nursery located in Whites Creek Valley at Wisdom Street Annandale, features recycled ironbark timber from the old Pyrmont Bridge. Ironbark forests once grew in Annandale.
Volunteers in the Nursery propagate Local Provenance for planting by Bushcare groups, working in Callan Park, Balmain and Annandale in Sydney's Inner West.
The Nursery is operated by volunteers and is open to everyone. Activities include collecting and propagate native seeds, weeding and planting. There are no prerequisite skills or knowledge required - but volunteers learn many new skills and get to know other locals. A hat and sturdy shoes are all you need to bring. The Nursery provides tools and protective gear for the variety of activities.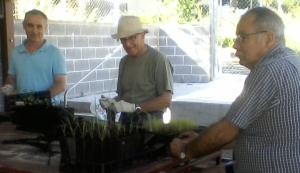 Turn up at the Nursery
Wisdom Street Annandale
8.30-noon any Wednesday and Friday.
The nursery came about through the voluntary efforts of individuals, in particular the tireless leadership of Beth Buchannen, for over 10 years, from 1995.
Projects
The nursery collects seeds and cuttings from nearby bushland and propagates this to produce tubestock.
Download group KML