Dustbowl to Wildlife Refuge
Supporting Local Native Wildlife & Biodiversity on Farm
Dustbowl to Wildlife Refuge
Supporting Local Native Wildlife & Biodiversity on Farm
Capacity to Deliver
-
NSWLP 024 008
The issue
Twenty-one years ago, when Wayne and Ingrid Yeo took over 'Kianga', 30km west of Gunnedah, they were faced with an almighty challenge. The property, formerly used for growing wheat and then sheep and cattle, had been overgrazed and the bare soils were compacted and 'dead'. Five mature paddock trees were all that remained of the native vegetation on neighboring farm 'Sunpatch' which they acquired in 2014.
The solution
The Yeos immediately commenced a program to revegetate and rehabilitate their land, starting with the planting of native trees and bird-attracting shrubs in their house paddock. From there, they have undertaken several other thoughtful strategies to enhance on-farm biodiversity.  With the philosophy of a healthy ecosystem beginning with healthy soil, several strategies have helped to build soil health over time, including growing different forage crops in rotation, interspersed with cattle grazing using a cell grazing system. Landholders have encouraged natural regeneration by excluding livestock from a strip of land where native seedlings were regenerating, helping to provide young replacement trees adjacent to the old growth timber in a bushland remnant. Recognising the contribution of dead and fallen timber, bark, wood chips and leaf litter, they have refrained from 'cleaning up' paddocks, leaving alone logs and dead trees to provide breeding sites, shelter and food (for insects). Livestock have been permanently excluded from the farm dam (cattle now watered from troughs). The Yeos capacity to deliver environmental outcomes through native tree and shrub planting was enhanced through their involvement in the local 'Habitat Restoration for Gunnedah Koalas' project managed by Tamworth Regional Landcare Association (with funding from the NSW Government's 'Saving our Species' program). An additional 600 native seedlings were planted in corridors across both properties in 2018.
The impact
Fencing off the dam has been accompanied by increased vegetation being established along the dam edge and wall and improved water quality, offering valuable habitat for turtles, frogs and native ducks. Two man-made islands offer a 'predator-free' safe haven. There has been a substantial increase in the abundance and diversity of native birds visiting or taking refuge and koalas are sighted regularly.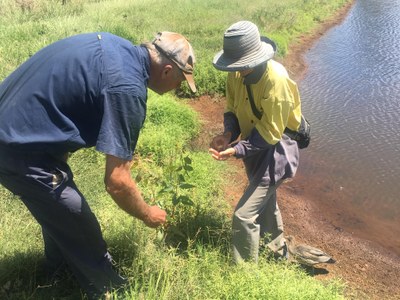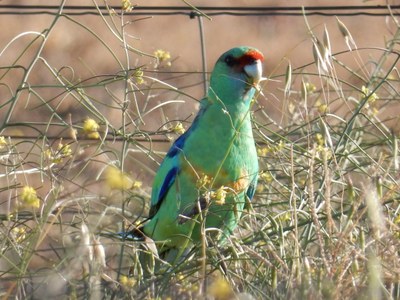 Key facts
Two landholdings totaling 90 hectares
Working Charolais stud
1500 native trees and shrubs planted
Partnered with Landcare to enhance koala habitat
Project Partners