Is your farming business getting into regen ag?
Signposting landholders to useful resources in regenerative agriculture
Is your farming business getting into regen ag?
Signposting landholders to useful resources in regenerative agriculture
Capacity to Deliver
-
NSWLP-024-002
The issue
Landcare Coordinators are required to support landholders to increase their capacity to improve agricultural practices. Increasing knowledge and skills, along with improving access to local support structures, is fundamental to building this capacity and ultimately fostering long term behavior change.
There is a growing interest in regenerative agriculture among landholders and an abundance of information and learning opportunities available. Traditionally, educational opportunities for farmers have been limited to field days and short courses but with technological advances, the opportunities for self-directed learning has also opened up in recent years.
Landholders are a diverse group with varying educational backgrounds and preferred methods of knowledge and skill acquisition. They face barriers to accessing professional development due to geographical isolation and time constraints.  
Farmers need a clear signpost to quality, accessible, recommended resources and learning opportunities which are matched to their needs and interests in regenerative agriculture. 
The solution
The idea to produce a list of useful websites and courses in regenerative agriculture was first coined before a field day on the Liverpool Plains in 2019. In early 2020, this list was further developed by the LLC in consultation with Upper Mooki Landcare Inc and the Regional Agricultural Landcare Facilitator. A range of suggestions came forth including books, podcasts, websites, videos, courses and training opportunities, newsletters and social media pages.
To make the resource easy to read, resources were divided under six clear headings: READ; LISTEN; WATCH; CONNECT; VISIT & LEARN. Locally accessible service providers and support structures were included. The two-page handout was given a catchy title, professionally designed and printed.
A Landcare function provided the opportunity to launch this resource with farmers via the participating trade stalls. In addition, it was made available for download from the Tamworth Regional Landcare Association website. 
The impact
Landholders can regenerate their land by supporting healthy soils, groundcover and biodiversity. This simple resource provides a useful starting point for landholders in the North West wanting to engage.
More than 100 copies were taken away from the event where the resource was first launched.
Feedback from experts within Local Land Services have praised it and expressed interest in sharing widely.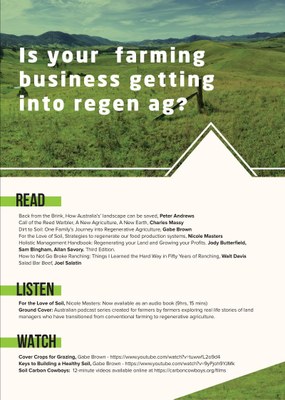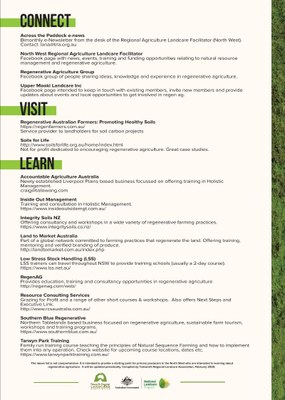 Key facts
Double-sided, A4 sized colour handout for landholders
Professional design & printing cost - $300 (200 copies)
Handout to be updated and reprinted periodically
Project Partners