Koala Habitat Restoration
A short & simple capacity building event for landholders
Koala Habitat Restoration
A short & simple capacity building event for landholders
Capacity to Deliver
-
LP024 - 005
The issue
The Saving Our Species: Habitat Restoration for Gunnedah and Liverpool Plains Koalas ("Round 2") Plan required Tamworth Regional Landcare Association to convene a capacity building activity to ensure that habitat restoration works undertaken on private properties across the region were of high quality and therefore of maximum benefit to local koala populations.
All 11 contracted landholders were time poor and attendance at education events not compulsory. Landholders were diverse; from lifestyle farmers with off-farm income and no revegetation experience through to primary producers who had planted hundreds of trees. An event that would cater for diverse needs and attract all, if not most of the target group was required.  
The solution
Informal consultation assisted with determining needs. Landholders had received a visit from an ecologist and were enlightened about suitable species.  Several had applied for a WIRES funded arboreal drinker ('Tree Troff'). Landholders received "Planting your patch: A guide to revegetation on your property" in advance.
Event Objectives:
Increase understanding of wildlife-friendly fencing and tips for planting corridors;
Facilitate familiarity with installation and maintenance of the 'Tree Troff'
Increase awareness of threats to koala health; when and how to access WIRES; and
Enable landholders to meet local Landcarers and other participants
Three local experts; Rob Frend; designer of the Tree Troff; Martine Moran; WIRES koala carer and Mark Kesby;  Landcarer with extensive experience with revegetation provided a brief talk and then the session was opened up for questions. Project funding was utilised for afternoon tea, prizes and speaker payment.
These strategies were used to attract participants:
Short duration; two hours with refreshments provided;
Prizes (total value of $550; native seedlings, mulch etc);
Promoted as 'relaxed and informative' with Q&A;
Invitations (via email) followed up with SMS
The impact
Eight(8) out of the 11 landholders participated. Including Landcare staff and speakers, there were 18 people (staying withing the coronavirus limit of 20 people).
A short evaluation form revealed extremely positive feedback: "Today has been fantastic. Thanks for organising this. Great to meet the other landholders" and some weeks later "That day you held was great; it provided all that we needed".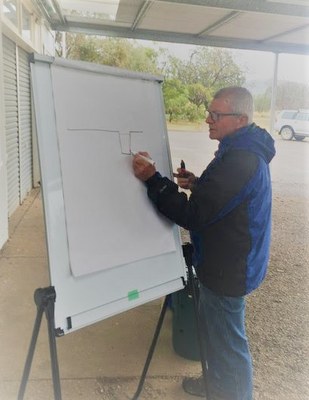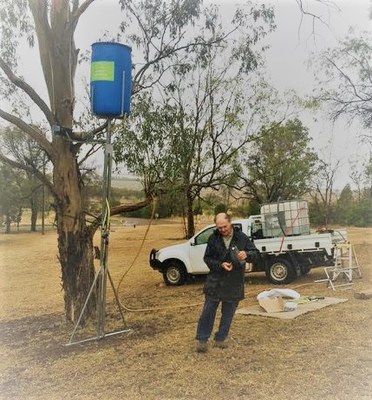 Key facts
100% of participants felt the event duration was appropriate, presenters effective, event was relevant & met expectations
All were interested in more education with topics of interest including koalas, native plants, animals and birds and controlling predators.
Project Partners