Landcare and Longevity
A brief history of Bubbogullion 100 Landcare Group
Landcare and Longevity
A brief history of Bubbogullion 100 Landcare Group
Capacity to Deliver
-
LP024-009
The issue
The world has become a busy place, with people juggling competing priorities, challenges and societal causes, a question we are often faced with is how do Landcare groups retain members and achieve their goals?
Bubbogullion 100 Landcare group has achieved great things in it's time. In 1995, they were the 100th Landcare group formed in NSW they have enjoyed continued membership and activity over the past 27 years.
The solution
A local landholder, Tony Osborne, from Attunga spurred the formation of the group by bringing together local landholders wanting to address gully erosion and water flow. The group were successful in obtaining funding to complete their initial project and were able to gain momentum with more funding and programs to follow.
Grant funding income has been helpful in supporting the group, they see their longevity as a result of several factors.
The group have met continuously for 27 years and their meetings are supportive and convivial and are invaluable during troubled times like drought, fire and flood.
The impact
The group hosts a diverse range of events and projects, ensuring a value offering for members and the surrounding community, including pasture trials, gully restoration, Coolatai grass management, composting, managing feral pigs, 'Learning from Landcare winners' bus tours, hosting field days on soils and natural sequence farming, multi species cropping trials and soil testing, dung beetle monitoring, native grass ID and carbon farming.
New members are welcomed and offered ongoing support and mentorship from long term members. Resources are shared and the group has invested in beneficial equipment over the years, such as a soil flow seeder.
Learnings
Success and longevity for Bubbogullion 100 Landcare has resulted from a great balance of good governance, effective office, and community. Staying connected - regular social gatherings as the focus, new and interested members are welcomed, supported, and offered mentorship. A diversity of group members and subsequent activities have driven the group and kept members interested.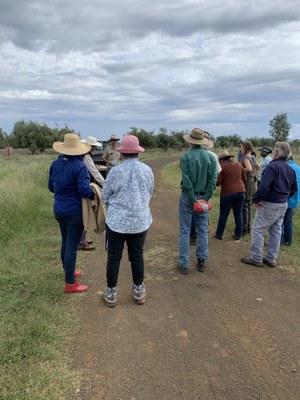 Key facts
Group formed in 1995
Oldest incorporated group in North West NSW
Regular meetings for the past 27 years
History of effective office bearers
Diverse activities and membership