More Drought - More Water - Phase 1
Innovation in response to Disaster: How Wallabadah Creek Catchment Community are responding to failing groundwater supplies
More Drought - More Water - Phase 1
Innovation in response to Disaster: How Wallabadah Creek Catchment Community are responding to failing groundwater supplies
Capacity to Deliver
-
LP024-R001
The issue
In the midst of enduring drought conditions in 2018, the water levels in bores serving both landholders in the Wallabadah Creek catchment and the village of Wallabadah, had dropped to unprecedented levels.
The solution
In their desire to understand and take responsibility for their long term water supply, local landholders approached Landcare about becoming involved in groups and activities.
The project kicked off with a successful funding application through NLP to deliver baseline benchmarking in the Wallabadah Creek catchment including water and soil testing, and consultation with a hydrologist and a soil biologist.
Local Land Services in partnership with a local landholder also established a demonstration site of 'leaky weir' structures for creek rehabilitation.
The impact
As a result of this project the group has an increased understanding of hydrology across the landscape, along with increased understanding of soils, including structure, groundcover, history and composition.
Baseline carbon data and pasture regeneration options for sheep-cattle/subtropicals-natives have been established.
The group became a sub-committee of Tamworth Regional Landcare Association, giving access to networks, information and funding through sharing of knowledge, experience and information amongst local farmers and Landcare and Local Land Services staff.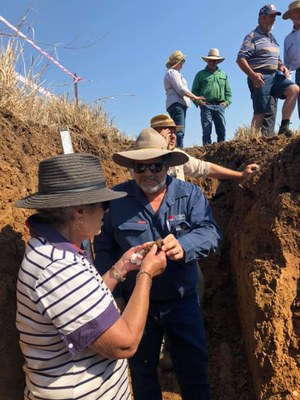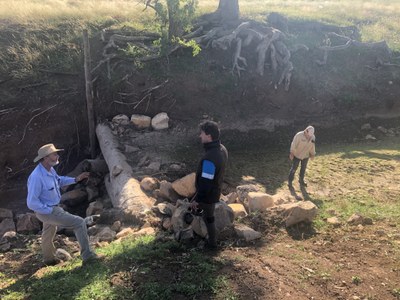 Key facts
Wallabadah Creek Catchment Community is born – late 2018
$44,000 funding collaboration through Regional Land Partnerships Program, Local Land Services and the landholder
Bore level, flow rate and soil testing across 17 properties
16 and 27 participants at two benchmarking events
3 presentations from soil and hydrology scientists