Renewable Manilla
Local groups supporting each other and a sustainable future
Renewable Manilla
Local groups supporting each other and a sustainable future
Collaborations
-
LP024-006
The issue
In 2019 Tamworth Regional Landcare Association (TRLA) sought to host a series of events in our community to celebrate 20 years of Landcare in the Tamworth Region. The events aimed to both promote the achievements of Landcare but also to envisage a future in which Landcare continues to play a vital role in a healthy and sustainable region.
The solution
Supporting a climate ready community is a core value for TRLA as is building partnerships with community, promoting innovation and sustainable development in the Tamworth region. An opportunity arose to partner with Manilla Community Renewable Energy Inc to host a regional event celebrating Landcare and the Manilla Solar Project's successful partnership with Providence Asset Group UNSW and H2store.
The Manilla Solar Project will construct a 4.8 megawatt solar farm 3km outside of Manilla. It is a joint venture between the Manilla Community Renewable Energy Inc and Providence Asset group.
TRLA share their vision of sustainable regional development and transitioning to a clean energy future.
Jointly, we were able to host Renewable Manilla with further support from Northern Inland Regional Waste, Sustainable North West, the Country Women's Association & Rural Fire Service.
The impact
Renewable Manilla hosted over 240 guests in the township of Manilla NSW. A 100 mile dinner was served showcasing the produce of the region. The wonderfully lit Manilla Viaduct made an impressive backdrop for the evening, which marked 20 years of local Landcare, and also informed guests of the prospective Manilla Solar Project.
Guest speakers from Tamworth Regional Landcare Association, Manilla Community Renewable Energy Inc, Providence Asset Group and the Country Women's Association addressed the crowd.
A community choir belted out John Farnham's You're the Voice, complete with the iconic bagpipe solo, backed by Australian folk legends Magpie Diaries who proceeded to entertain the guests into the night.
Leading regional Ecologist Phil Spark led a spotlight walk on the banks of the Namoi River and a jumping castle and hydrogen battery powered BBQs & bikes provided further entertainment and discussion.
The success of the event is attributed to the many volunteers involved, service providers and support from the community in attendance.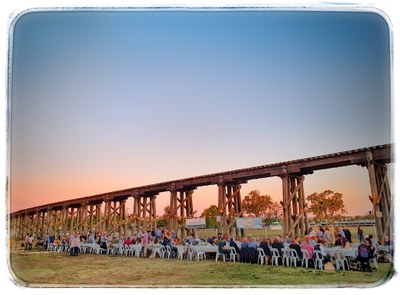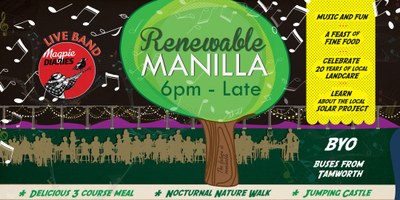 Key facts
240 attendees celebrating a sustainable region
Promoting innovative and community led futures
Supporting community/private partnerships
20 EOIs to be part of the solar project investment
Project Partners