The Biggest Little Farm (PG)
Film Screening & Networking Opportunity for Primary Producers
The Biggest Little Farm (PG)
Film Screening & Networking Opportunity for Primary Producers
Community Participation
-
NSWLP-024-001
The issue
Prolonged drought has prompted many farmers and graziers to consider what they might do differently on-farm to increase their resilience to hotter, dryer and less predictable seasons. Many recognise there is an opportunity to incorporate regenerative agricultural practices (which support healthy soils, groundcover and biodiversity) but are unsure about where to start.
Primary producers need easy access to the Landcare network, peer support, information and learning opportunities that will support them to regenerate their land and mitigate the effects of climate change.
The solution
The idea to showcase the award-winning film, 'The Biggest Little Farm' at an independent cinema in Quirindi came from an enthusiastic grazier from the Liverpool Plains, Maddy Pursehouse. Set in California, the true story shows how hard work and determination can reap rewards for both production and the natural environment.
The event presented an opportunity for traditionally operating farmers to 'think outside the box'. Participants stayed on for networking over drinks and food. Four trade stalls facilitated new connections with Landcare and access by farmers to courses and training opportunities. Held on a Sunday afternoon, it was organised collaboratively by Maddy and the Local Landcare Coordinator. Food was funded by the Rural Resilience Program (DPI) and one complimentary drink by Landcare.
Organisers promoted it as a fun and social energiser with the opportunity to get connected with information and support for sustainable farming into the future.
A new handout "Is your farming business getting into regen ag?" provided highly recommended resources, courses and social media avenues to inspire regenerative land practices.
The impact
Evaluation post event (via a 3 minute online survey) demonstrated some excellent outcomes. The survey was administered to 67 email addresses (usually one email / household was provided). ALL landholder respondents (n=13) agreed they would consider making changes on farm based on the themes in the film and/or their discussions with peers and stallholders. 
"Work with nature and appreciate there is an ecosystem that you as a landholder can use to your advantage". (Participant comment).
Almost all participants provided their email address and consent for future Landcare engagement. These participants were added to a database to receive "Across the Paddock"; a newsletter put together by the North West Regional Agricultural Landcare Facilitator. This action will help the event to achieve a longer term impact.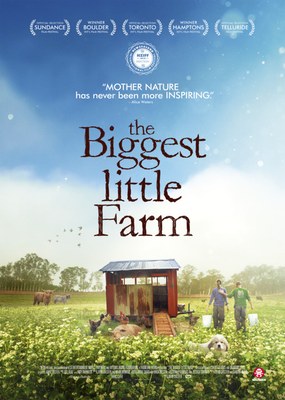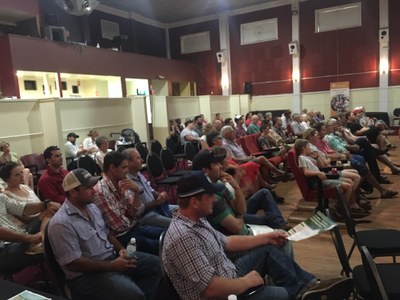 Key facts
149 people attended; more than 60% farmers
Online evaluation survey – 32% response rate
Budget for catering & drinks - $1,500 (based on 100 people)
Participants paid for their own movie ticket
Project Partners