Tarban Creek is a tributary of the Parramatta River. Tarban Creek starts near Earnshaw Parade in Gladesville and runs through Tarban Creek Reserve and Riverglade Reserve to the Parramatta River.
The Bushcare group works in the upper section of Tarban Creek near Augustine Street, Gladesville and Mary Street, Hunters Hill. There is a variety of work to be done from hand weeding to removal of Lantana and Privet.
Details:
The group meets every second Saturday of the month from 10:00am to 12:00 noon.
The meeting place is variable so please contact Bushcare staff on 9879 9439.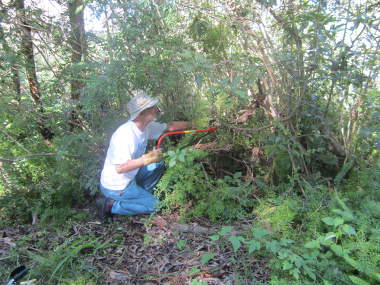 A volunteer performing bush regeneration
Download group KML