Funding wetland restoration
Gaining funding to restore biodiversity to a degraded wetland area in the Upper Clarence.
Funding wetland restoration
Gaining funding to restore biodiversity to a degraded wetland area in the Upper Clarence.
Taking Action
-
LLCI033-044
The issue
Wetlands in upper catchments were once hubs of biodiversity, moderators of catchment health and important centres of indigenous life. There are about 100 such wetlands in the Upper Clarence region and most, if not all are in a moderately to severely degraded state. Wetlands are often on private land and in agriculturally important areas. Degradation in the wetlands is now long-standing, associated with previous land clearing and often continues due to factors beyond the wetland itself, such as upstream gully erosion, sedimentation and over clearing, many of which may also occur on neighbouring properties. Wetland restoration is beyond the financial willingness of most landholders, even if they were motivated to be interested.
The solution
Starting in 2007, Upper Clarence Combined Landcare (UCCL) surveyed the wetlands of the Upper Clarence, identified the most regionally significant and commenced talks with landholders. Some landholders were interested and UCCL did a small project on a wetland at Old Bonalbo. In 2016, UCCL visited with the landholder of the Tabulam Wetland area and discussed a possible plan for restoration, subject to funding. Old photos (1947 on) played a critical part in the discussions with the landholder and formulating plans for repair. Using the plan as agreed with the landholder, UCCL submitted an application for a NSW Environmental Trust Restoration and Rehabilitation grant, detailing the restoration of the wetland area, and this has now been funded. This being Phase 1 of UCCL wetland repair project, discussions are now underway with a landholder at Sandy Creek, Old Bonalbo, to draft up a restoration plan for a second large wetland area in the Upper Clarence.
The impact
This successful funding application supports UCCL's large scale work for habitat restoration on private farmlands in the Upper Clarence, demonstrating that when funds are available, the community is ready to get on board. The project will implement long-term habitat restoration for biodiversity on private agricultural lands, retaining the key cultivation areas for farming whilst restoring the lagoon vegetation and habitat. The project also employs local Indigenous workers on the wetland area, involving them and their community in local wetlands as a cultural asset and an environmentally important landscape.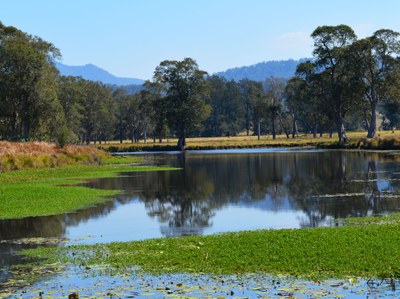 Key facts
long term planning and relationships lead to effective project development
when funding is available landholders are ready to be involved
identification of key biodiversity positions in the landscape
staging of funding and project works into phases
working directly with single landholders and taking their priorities into account