Fixing the past – planting the future, another step in stabilising Araluen Creek completed
Upper Deua Catchment Landcare Group celebrates the completion of the Araluen Creek Restoration Project 2021-2023 by launching it's feature film at a special red carpet event on Saturday 9 September 2023 at the Araluen Federal Hall.
In 2021 following drought, the Black Summer fires, and subsequent floods, the Upper Deua Catchment Landcare Group secured a grant to do substantial restoration works on Araluen Creek.  A key part of this was to take the community along with them, with community outreach, educational workshops and a video to document the project. On Saturday 9 September the group gathered to say thanks to all those involved and to acknowledge a job well done in difficult circumstances.
The project saw large scale remediation works at thirteen (13) sites along Araluen Creek involving placement of 460 tonnes of large rock, 29 truckloads of root balls and 32 x 6-metre hardwood logs. On the community engagement side the group undertook six workshops, three community planting days resulting in 1,500 plants in the ground and over 50 media articles in our independent local media –the Braidwood Bugle, Regional Independent and Braidwood Changing Times, as well as features on Radio Braidwood FM.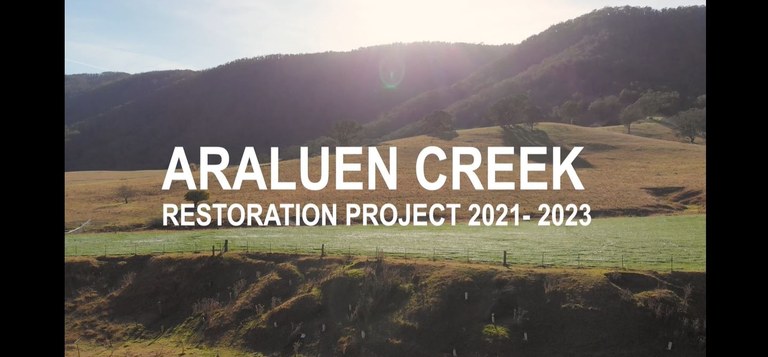 The film is produced by local award-winning documentary filmmaker Clare Young and her team and captures the local Araluen community connecting up to oversee a big project to stabilise the Araluen Creek – a shared environmental resource – that is the lifeblood of the Valley. At its heart the video tells the story of how local communities can work together to bring about positive change to build community and environmental resilience in the face of a changing climate.

Tony Peters, Chair of Upper Deua Catchment Landcare Group said:
"We saw the problems and knew we needed solutions, so we sought advice and resources and have stuck at it for years to get to a successful completion.
"Our work will never be finished because we can't stop disasters, but we can get ready so that damage is reduced, and the required repair is manageable. If we did nothing there would be decline in biodiversity, agriculture would be more marginal and the quality of water from here to the ocean would be diminished."
Steve Whan MP, Member for Monaro, NSW said: 
"It is a pleasure to be able to join landcare and the community to celebrate the completion of such a significant project.  As I have learnt in my work outside politics over the last six years or so, our riparian zones and catchments are absolutely critical, and with the right vegetation and fencing, we can ensure that we have clear healthy waterways that avoid riverbank erosion and sedimentation.
"I know that this project was a big task, the area was severely affected by bushfires and that loss of vegetation can create significant problems with erosion and colonisation by noxious weeds.  The success of this project is a real tribute to the commitment of so many local people to their environment and, in particular, to the Upper Deua Landcare group.  I do want to congratulate and thank them for their efforts."
Clare Young the local filmmaker who prepared the project video said:
"We need regeneration on so many fronts, which is why I really love the work of Landcare and wanted to support them produce this film. The volunteers who run Landcare are so inspiring and provide real solutions to the problems we face, encouraging new life, regeneration, and hope."
Turlough Guerin CEO Landcare NSW said: 
"Upper Deua were early landcare adopters who took the initiative to seek funding for the Araluen Creek Restoration Project through the Bushfire Community Recovery and Resilience Fund (BCRRF) which was jointly funded by the Australian and New South Wales governments.
"Landcare groups are important in recovery programs after natural disasters. More than 50 projects were funded in NSW through the Landcare Led Bushfire Recovery Grants Program. Of the projects funded in NSW, 77% are projects being delivered by member groups of Landcare NSW.
"The group of volunteers that make up UDCLG took the initiative when the Bushfire Community Recovery and Resilience Fund program was offered and their success in both achieving the grant and delivering the multi-year, multi-agency, multiple outcomes has been a demonstration of how Landcare is fixing our past and planting our future.
"Landcare NSW is continuing to expand its impact in the disaster resilience and prevention area with its People Led Preparedness Program funded by the NSW Reconstruction Authority, where our groups are working alongside emergency and recovery agencies, complementing their efforts from a nature-based solutions perspective".
Larry O'Loughlin, Chair of Upper Shoalhaven Landcare Council said:
"Upper Deua Catchment Landcare Group has given us a living example of how Landcare is a community-based organisation bringing together the people who matter to protect, repair and restore the natural environment to maintain our biodiversity and to allow for ongoing sustainable agriculture.
"Our hope is that people will be inspired to see there is no problem that is so big that it can't be fixed by dedicated community action. Landcare is one great way to fix the problems and plant the future".
The event provided an opportunity to say thank you to all the volunteers, stakeholders, landholders, and various people who made the project such a success.
The PowerPoint summary of the Project presented on the day can be found HERE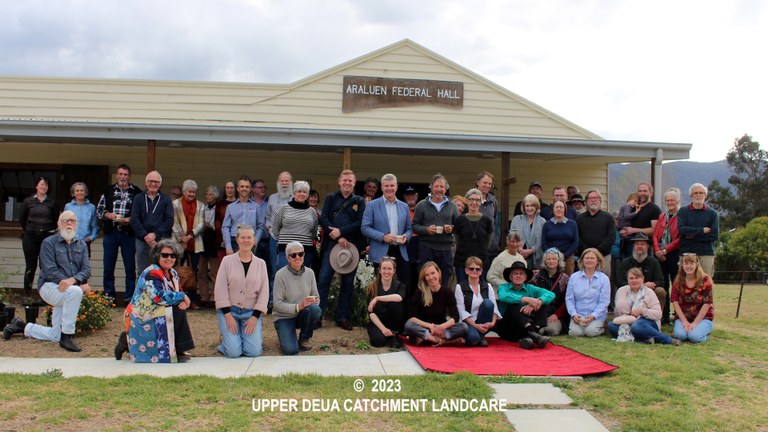 Attendees of the red carpet film premiere at the Araluen Federal hall on Saturday September 9 2023. Photo: C Harrison

 This is a Bushfire Community Recovery and Resilience Fund project through the joint Commonwealth/State Disaster Recovery Funding Arrangement