More Than Just Erosion Control
Erosion Control is just the beginning of rehydrating the landscape.
More Than Just Erosion Control
Erosion Control is just the beginning of rehydrating the landscape.
Taking Action
-
LLCI025-004

The issue
The Upper Lachlan catchment can experience high velocity water flows during rainfall events. Erosion cuts that began, probably over 50 years ago, continue to eat their way through the landscape. Such long term erosion occurring over such a large district can seem overwhelming. Machinery and engineering options can be expensive and require expert knowledge to avoid exacerbating an existing erosion site. Meanwhile, the eroded channel continues cutting further and further back up into the landscape.....
The solution
Partnering with Cam Wilson, from Integral Earth, Upper Lachlan were able to demonstrate low cost and effective erosion stabilising techniques. Cam encourages landholders to make use of rocks, tree branches, logs, straw and whatever other material is readily available. Coupled with some hands-on elbow grease from a few friends and neighbors and costs are minimised while outcomes are maximised! Upper Lachlan Landcare hosted 3 workshops with Cam over 2017. The first two workshops demonstrated techniques that can temporally halt an active erosion cut long enough to allow stabilising vegetation to establish. The third workshop explored and discussed rehydrating the landscape. Bringing more moisture and water holding capacity across an entire property, supporting further vegetation growth and soil microbial activity.
The impact
The sense of satisfaction and achievement at the completion of a workshop, when we have all worked together to install a simple and effective erosion stabilising technique is extremely rewarding. Realising and experiencing soil erosion is something we can positively act on without great expense is almost a revolution in thinking. This provides inspiration to landholders to continue their learning and understanding around repairing an eroded landscape. It also provides the building blocks to support understanding landscape hydration and how this is intertwined with overall landscape health.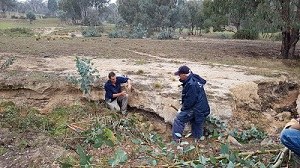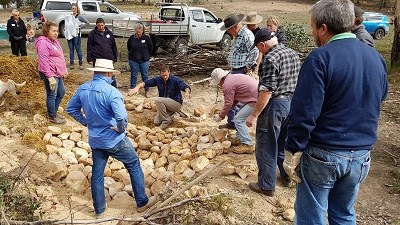 Key facts
Start with small erosion sites and build your knowledge through experience
Erosion control isn't necessarily an expensive fix
Stabilising erosion sites is part of a bigger rehydration process
Project Partners