Upper Lachlan Landcare Grazing Group
Supporting graziers in Upper Lachlan to connect, grow and explore.
Upper Lachlan Landcare Grazing Group
Supporting graziers in Upper Lachlan to connect, grow and explore.
Taking Action
-
LLCI025-009
The issue
Upper Lachlan Landcare identified some common challenges faced by local graziers;
sourcing information,
understanding what other graziers are experiencing locally,
finding like-minded people,
feeling isolated.
The solution
Upper Lachlan Landcare picked up on a successful program initiated by Mid Lachlan Landcare – called Growing the Grazing Revolution. Here a local landholder, Scott Hickman, facilitates grazier cluster meetings. These informal round table discussions provide an opportunity for graziers to get to know each other, share knowledge and experiences, and stay in touch.
We engaged Scotty to facilitate a series of grazier meetings, attend a round of on farm visits and plan a bus trip to neighbouring graziers practicing regenerative agriculture.
Upper Lachlan Landcare's overall plan was to develop our own community of connected local graziers and source a landholder locally who could support our graziers in the longer term.
The impact
Upper Lachlan Landcare now hosts a well-established, active, connected and stimulating grazing group. We have a fantastic local facilitator, Paul Hewitt, who is passionate about delivering better outcomes for graziers and their landscapes supporting a balanced approach across economic, environmental and emotional outcomes.
We support;
Seasonal meetings
Guest speakers
Farm tours, both locally and overnight
One-on-one farm visits
A supportive and connected network of like-minded people.
Our first year hosting the grazing group entirely from local resources was 2018. By the end of 2018 we had a membership mailing list of 59 individuals – 49 of whom attended at least one event that year, most attended several.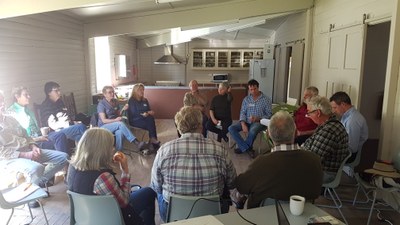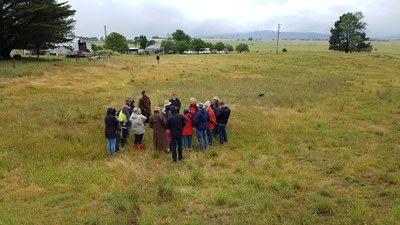 Key facts
At our most recent round of seasonal grazing meetings many people commented that they were in no doubt - participating in Upper Lachlan Landcare's Grazing Group has put them in a better position, in terms of landscape, stock, economic and personal health.
Project Partners