Kangaroo Management in SE NSW
Improving animal welfare, landscape resilience and reducing wastage
Kangaroo Management in SE NSW
Improving animal welfare, landscape resilience and reducing wastage
Building our Future
-
LLCI026-004

The issue
Landholders and graziers concerns about kangaroo populations and total grazing pressures are increasing. Many landholder who have de-stocked completely, or practice rotational grazing and regenerative agricultural are still suffering from the grazing pressures of high density of kangaroo populations. People are also concerned with the impacts on grasslands in conservation sites.
The solution
Upper Shoalhaven Landcare and Bungendore Community Landcare group held a kangaroo management forum. The forum was aimed at primary producers and landholders covering kangaroo management options and current research. The forum brought together expert speakers and primary producers to develop ideas on how we can best work together to effectively manage kangaroos for conservation and primary production in a sustainable, resilient landscape. Topics and research ranged from insights into kangaroo grazing preferences, changes to landholder licences to harm kangaroos, kangaroo population dynamics, assessing the animal welfare impacts of kangaroo management methods, animals cruelty and compassionate conservation, returning organics to soil: composting kangaroo carcasses, using livestock guardian dogs as surrogate top-predators, exclusion fencing, commercial harvesting and non commercial harvesting, kangaroo management in crisis:improving animal welfare, landscape sustainability & reducing waste. 
The impact
The workshop included various views from different industry bodies including; Local lands services, National Parks & Wildlife, NSW Department of Primary Industry, ACT conservation & research, NSW office of environment & heritage, University of Tasmania, Australian National University, Kangaroo Industry Association & Centre of compassionate conservation. Over 90 landholders & representatives of industry bodies attended the full day forum. this forum is the beginning of a long-term collaborative process between graziers, support agencies, commercial industry representatives, policy makers & regulatory bodies. 
Learnings
Professional control is being replaced with amateur control, the alternative results in better animal welfare, more stable kangaroo populations, reduced waste, reduce land degradation, profitable human communities
Australia currently exports more than 3,000 tonnes of kangaroo meat annually, average kangaroo carcass is 23kg, @ 0.60c kg each kanagroo is $13 - this price could be much higher. What needs to be done:
1. Coordinate conservation and primary industry government departments
• Clearer objectives & better grazing pressure information and monitoring
2. Enable landholder responsibility
• And capacity to benefit including, carbon benefits and improved quality and product description
3. Regard kangaroo as another of Australia's red meat industries
• Collaborative research, development and marketing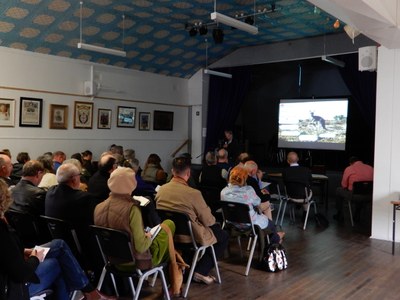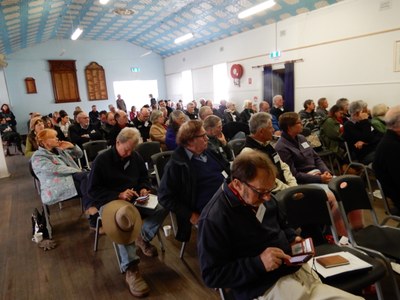 Key facts
90 landholders with increased awareness of kangaroo management options
8 industry bodies represented
15 local land services staff attended from across NSW
6 local landcare groups represented
Project Partners