Bush regeneration in Valley of the Waters and along the Nature Track, Wentworth Falls. Meets on the 2nd Saturday of each month, 9am-12noon
Who are we?
The Bushcare group brings together people of varying ages and backgrounds, who enjoy working together to improve these local bushland areas, as well as the social interaction of each work session.
This Bushcare site is at Valley of the Waters on the southern side of Wentworth Falls, predominantly within Blue Mountains National Park. This area of the Blue Mountains has some stunning views over the Jamison Valley and beyond, as well as a variety of vegetation communities, geological features, and unique native flora and fauna. The site is a popular tourist destination and contains many bushwalking tracks. The site starts at West Street below The Great Western Highway, extending southward to the Blue Mountains Conservation Hut across the valley escarpment, and includes the Wentworth Falls picnic area.
Group History
Prior to the Bushcare group forming, members of the Blue Mountains Conservation Society began occasional weeding in bushland around the Conservation Hut. On 21 October 1996 the Conservation Society Bushcare Officer formalised these activities, followed by support from NPWS in 2001. Additional support has been provided by Blue Mountains City Council, various adult education bodies, and federally-funded Green Corps programs.
What do we do? 
The Bushcare Group works predominantly around the urban/bushland interface to reduce the impact of invasive weeds, erosion and sediments that affect the national park and surrounding bushland.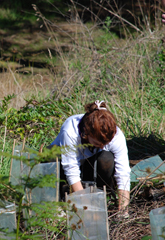 The work mostly involves weeding, but also includes:
planting erosion control work
occasional events - weeding and/or planting
brush-matting to contain and define tracks
remote valley work along creek-lines
Site Objectives
Bushland regeneration and improvement
(Information courtesy of Office of Environment and Heritage)
Download group KML