Walgett Garden Day
Gardens for Mental Health at Walgett
Walgett Garden Day
Gardens for Mental Health at Walgett
Making a Difference
-
LLCI022-028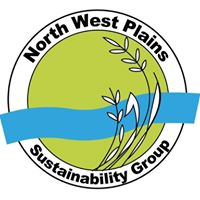 The issue
After seven (and counting) long years of drought the Barwon and Namoi Rivers ceased to run through the Walgett Shire, the artesian bore water is becoming more concentrated while the level drops. During times like this thoughts often turn to farmers and live stock - but what about our gardeners? The NWPSG coordinator Denielle Kilby and Kate Pearce from the NWLLS WAGs heard stories of gardens established in the 1880s perishing and new gardens dissolving in the heat. 
The solution
The Day was hosted by Lorretta and Greg Robinson at 'Wonga', Carinda. With 145 participants sat on the lush lawn beneath 100 year old QLD Bottle Trees. First speaker was Lorretta; she described her garden over the past 30 years. Next was Jerry Colby Williams from the ABCs Gardening Australia. He provided expertise and experiences for gardening sustainably in extreme climates. Followed by an extensive question and answer period. Finally Kylie Rutledge from 'Moble' gave her eloquent recount of gardening on gibber at Quilpie, QLD and an electronic copy of the 'Moble Homestead Plant List'. The day concluded with lunch among the garden and a chance to chat with friends before the coach returned to Walgett.
The impact
With participants from as far away as Canowindra, Girilambone, Bourke and Mungindi the desire for knowledge was evident but what was surprising was the passion. From the day an 81 strong Walgett and District Garden Club will form!

"The best drought event yet. I am tired of being told what I should have done and what I have done wrong this drought.... Today has just given me ideas for moving forward"
"It's depressing coming home to a dead lawn and dying trees... It's sad for the boys too... I'm going to put some colourful pot plants at the front gate!"
"The perfect day... We're all in the same boat... It was good to share"
"I'm going home to get my garden beds ready... my next garden will be the best one yet!"
One inspiring story is that of Coral Marshall from Burren Junction, she asked Jerry " I have terrible soil and terrible water, I have lost many lemon trees - what can I do?" to which Jerry responded "Plant something else!... or put it in a pot" He then gifted her a Green Orange which is a citrus well suited to Corals situation.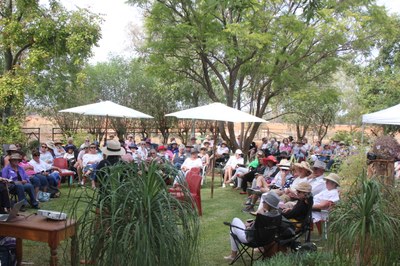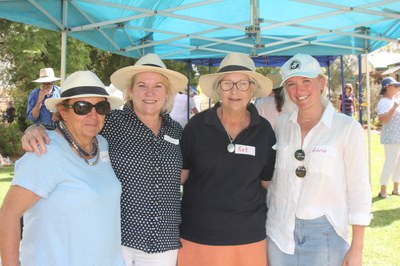 Key facts
"Inspiring"
145 attend
81 join Garden Club
Project Partners