Wareemba teams attack the Arundo
Project text courtesy of Anne Brown, Wareemba Avenue Bushcare
The Wareemba and Wareemba/Tyas bushcare sites jointly cover around 1.5 hectares along (mostly) the western bank of Larool Creek, which links with Waitara Creek and the Berowra Valley National Park.Over the past 10 years the combined groups have largely eradicated the usual exotic weeds that had overtaken the creek bank and surrounding bushland. However once that hard work was done we were faced with tackling an enormous stand of Arundo donax or Giant Reed.
Arundo is a member of the grass family, with canes up to six metres in height and capable of growing ten centimeters a day. The removal process is, as you canimagine, a daunting task for a group of nine volunteers,most of us now at that 'certain age'.
Barbara Tyas was lucky to be made aware of, and we subsequently saw in the Advocate, twenty five Landcare Grants to be made available to community groups for special projects. We then discussed with our trainer, Jane Gye, our suitability for such a grant and after downloading and completing the application on-line we put together a brief PowerPoint presentation.
We selected a dozen photographs highlighting the Arundo problem and 'showcasing' the restoration work in the sites, the spectacular waterfall and one of our neighbourhood picnics.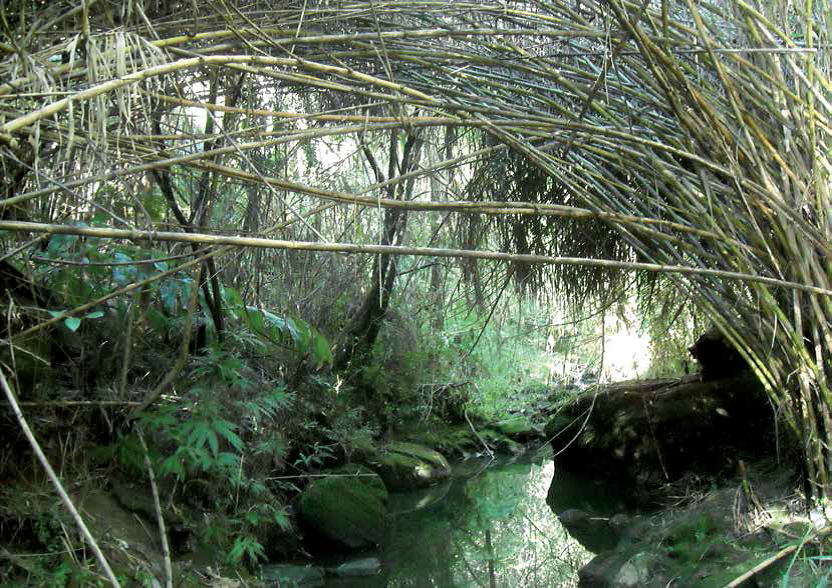 The Council Community Nursery came to the party with a commitment of 300 tubestock to aid in the restoration.Subsequently Landcare Australia provided us with a $2,000 grant, which enabled us to employ contractors.The funds would cover us for about 48 hours of labour so,to eke our funds out and make the most of the money, we elected to work a schedule of one day a week with thecontractors. Each Friday between 9.00am and 2.30pm the contractor fired up the saws and we volunteers began to haul giant fronds uphill from the creek to the road, where they were cut and bundled ready for removal. Over the coming weeks we amassed some 300 plus bundles lining the roadside.
Thankfully the council also donated a truck
for the removal. With such dedicated teamwork and effortwe actually managed to surpass the estimated area ableto be removed.
There is still a lot of work to do beyond our boundaries and perhaps another grant will enable us to pursue this to linkour creek walk to the nearby remnant Blue Gum forest and further improve habitat along the corridor for birds and
other wildlife.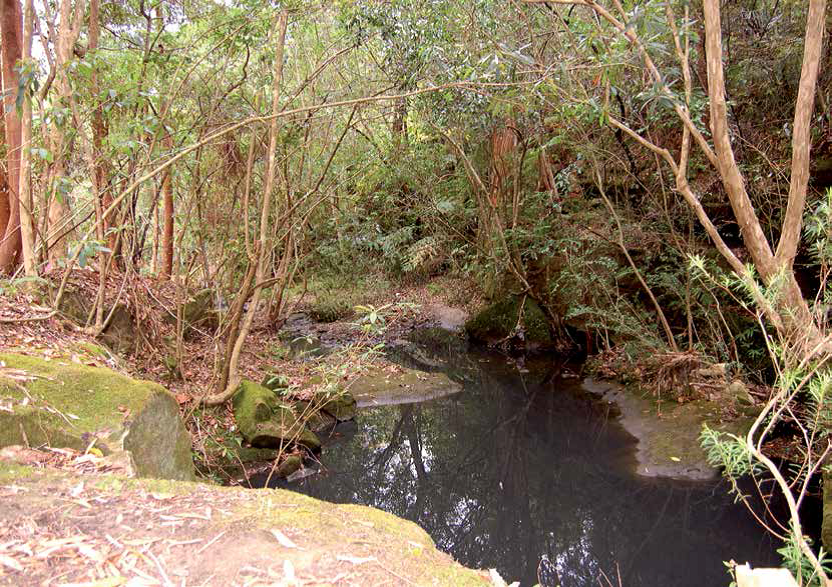 Wareemba Creek free of Arundo.