Fighting the War on Waste
Small things make a big difference - we just need to make a start!
Fighting the War on Waste
Small things make a big difference - we just need to make a start!
Local Links - Stronger Communities
-
LLCI003-009
The issue
Green Day is an environmental expo to inspire, encourage and excite students in years 5 and 6 through an action packed day with a number of workshop sessions and a keynote speaker. Each year students from 16 primary schools across the Mid Western Regional Council area attend the event. The presenters are given the mantra of GO MAD (go Make a Difference) to underpin their sessions. Following the excitement and interest within the community about the War on Waste, this was chosen as the theme for 2019.
The solution
On September 16 2019, year 5 and 6 students from local schools visited the Mudgee Showground to experience a day centred around the theme Go WoW or Go Make a Difference – War on Waste. This year's event was the biggest ever, with over 800 kids from 16 schools attending the environmental expo.
And we even had a celebrity special guest to help us celebrate. This year's keynote speaker was Craig Reucassel, host of ABC TV's Logie award winning series War on Waste. Craig's humorous and entertaining presentation built on the topics explored in the TV series, such as food waste and packaging, and challenged the children to consider their impacts on the environment and consider alternatives.
Students also participated in a range of hands-on and educational workshops centered around the themes of reduce, reuse, recycle and waste impacts. Over 30 presenters from organisations including Oz Harvest, Clean Up Australia, NetWaste and the Royal Agricultural Society of NSW gave the children a broad appreciation of the scale of the waste issue, the associated problems, and importantly, how they can do their bit to tackle the problem.
The impact
The feedback we have received from participating students and their parents has been very positive. There's real enthusiasm from students, they get a buzz from the day and the take home messages stay with them for quite some time.
A huge amount of man hours, all voluntary, goes into organising Green Day. We would like to extend a huge thank you to all our speakers and volunteers for donating their time and making the event such a success.
A special thanks to the volunteers from Mudgee High School who chaperoned the school groups to their workshops. Even with a record number of kids, everything ran very smoothly and no one got lost. Watching the interaction between the older students who share their memories of Green Day with the younger students shows the impact the event has on the next generation.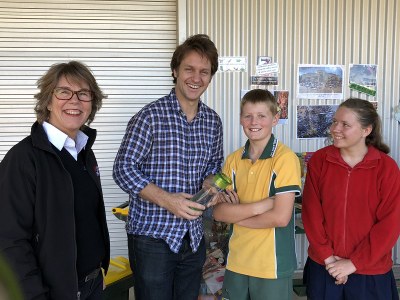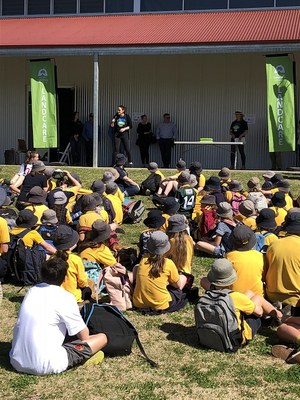 Key facts
Over 800 students from across the region attended GO WOW
Everyone can make a difference in the War on Waste
Students engage when they are inspired and open to new things
Project Partners