Growing Landcare - one plant at a time
A couple of friends set out to grow a few plants for our local field days...
Growing Landcare - one plant at a time
A couple of friends set out to grow a few plants for our local field days...
Capacity to Deliver
-
LP016-004
The issue
At least 10 years ago, two friends who were part of Landcare and liked growing plants had an idea - to grow native plants to sell at our local field days to support the efforts of Landcare. A few plants turned into about 1500-2000 plants each year, that would be sown with care and raised with love.
About three years ago, an opportunity presented itself and sparked a whole different view on what was possible. Our local council had taken over a site that had a green house on it and the Environmental Officer thought it would be perfect to start a community nursery there, and Landcare was the perfect vehicle. Unfortunately the site fell through, but the idea had kicked started a world of possibility and things simply had to keep moving. Especially as our two volunteers had agreed to grow about 4,000 plants for a couple of landholders...
The solution
Despite the plants growing happily in their backyards, there was so much potential for this venture to continue to give to Landcare for years to come. An alternative location would need to be found.
Six months later, with a bit of networking and the generosity of a local business, Royston Petrie Seeds, we found our new site which had a big water tank and plenty of space with access when we needed it! We had funds from Mid Western Regional Council but that only covered part of the setup costs so we needed to explore further funding opportunities. Thanks to Landcare Australia and the Michael King Foundation, we secured a grant to cover the remaining setup costs as well as seed collection and a number of revegetation workshops.
Our site will enable us to grow as our orders grow and currently we can propagate about 8,000 plants. This is soon to double as we recently secured a bushfire recovery grant to propagate plants for landholders in our area.
The impact
The opportunity afforded by the nursery provides value to Landcare that goes beyond the dollars. It is run by passionate volunteers who want to provide the best grown plants for revegetation projects, home gardens and large scale projects. It helps to build the skills and interests of our members as  well as providing income to support our broader Landcare activities in the Watershed Region.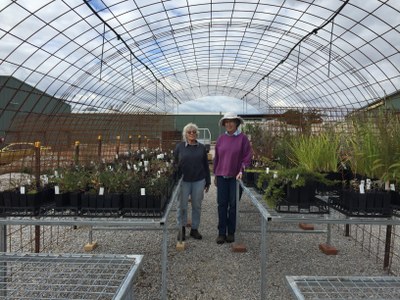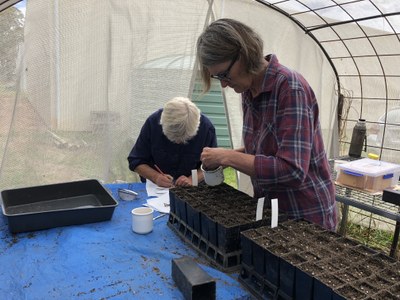 Key facts
From little things, big things grow!
Plants grown with love do better.
Alternative income sources is a must to ensure we can continue our work in the local community.
We can offer discounted prices to our Landcare Supporter membership.