A diverse cross-section of people who enjoy learning more about the unique Wombeyan karst reserve, as well as the social interaction of working together to improve this valuable natural asset. Wombeyan Caves Karst Conservation Reserve is approximately 3 hrs (175km) southwest of and 2.5 hrs from Bathurst. Transferred to NPWS in 2006, the reserve is adjacent to the Greater Blue Mountains World Heritage Area and Mares Forest National Park.
Group history
The NPWS with support from community volunteers initiated a volunteer weekend in May 2011 to treat woody weeds within the Reserve, aiming to significantly reduce the infestation over a 5-year timeframe. This model is based upon the successful Jenolan Caves weekends which have run nine times over the last four years.
Numerous woody weeds such as blackberry, English ivy, honeysuckle and cotoneaster are invading natural bushland and out-competing local species, preventing their germination. Over time this is reducing biodiversity, creating the potential for erosion and reducing water quality in affected areas of the Wollondilly River catchment.
These weeds present a significant upper catchment source-point for adjacent and downstream systems, and will continue to re-infest these areas without planned treatment. Flora and fauna endemic to Wombeyan Caves are in direct threat from the impacts of these weeds, as is the caves ecosystem itself. These effects grow every year that the weed infestation continues to expand.
What do we do?
The Landcare group works twice a year over an entire weekend, treating cold-climate garden escapees. These are mainly bird-spread exotic woody weeds. The work involves bush regeneration and targeted weeding, using cordless drills to stem-inject trees, or the cut and paint/scrape and paint method for woody shrubs and vines.
Site objectives
bushland regeneration
protection of threatened species habitat
protection of karst landscape
revegetation of degraded areas with native plants.
Site issues
weed invasion
reduction in biodiversity
threat to adjacent Greater Blue Mountains World Heritage Area values.
(Information courtesy of the Office of Environment and Heritage)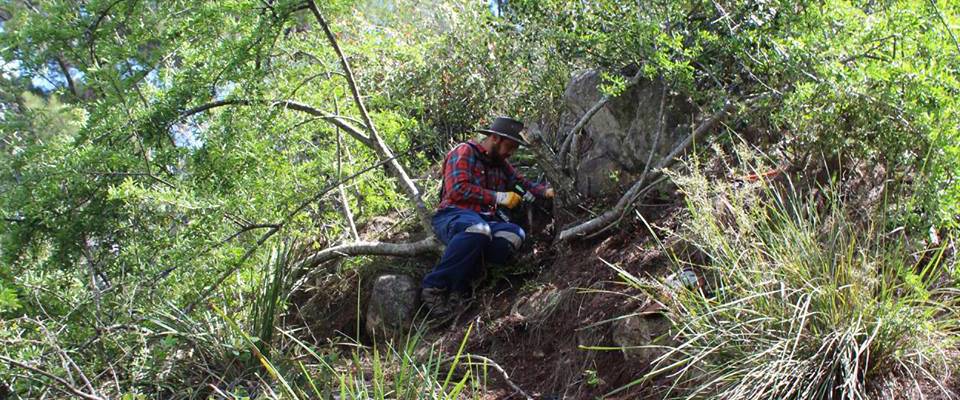 Photo - Megan Rowlett
Download group KML