Fruit tree pruning workshop
Care and pruning workshops for backyard orchardists
Fruit tree pruning workshop
Care and pruning workshops for backyard orchardists
Local Links - Stronger Communities
-
LLCI011-005
The issue
The Young Shire is home to a large horticultural industry and is well known for it's cherries and other stone fruit crops.
Young District Landcare were aware that many people in the region already had their own backyard orchards, or were interested in establishing one but were unsure about where to start.
The Queensland Fruit fly is also a major concern for commercial producers in the region and vigilance is required, particularly in backyard orchards if they're not managed properly.
The solution
A workshop with an expert speaker was organised for a property with an established orchard in need of TLC.
Participants learned about fruit fly awareness and management strategies, soil management for fruit trees, preparing new ground for tree planting, hard and light fruit tree pruning and an introduction to fruit tree grafting.
The workshop provided a hands-on pruning component as well as demonstrations for the grafting and soil management.
The impact
The hands-on component provided a key learning experience enabling participants to take skills away with them.
This workshop engaged 30 people but was also rolled out at three other locations collaborating with other Landcare areas which were also successful in achieving high participation and engagement - more than 120 participants at Young, Grenfell, Temora and West Wyalong.
Coordinators were able to support each other by sharing workloads and skills.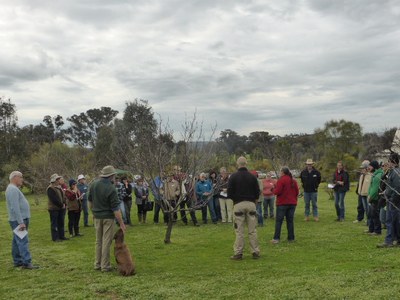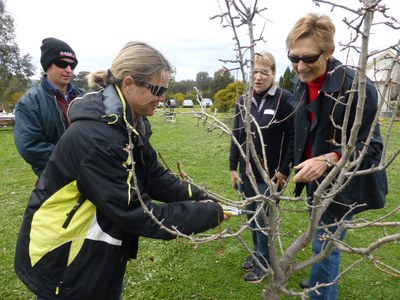 Key facts
Engagement across three Landcare areas
Participants learned valuable new skills
Awareness raised of issues that impact the wider community