"Working Together" Aboriginal Communities Engagement Program
This initiative within the NSW Landcare Program will increase opportunities to consciously develop stronger connections and partnerships between Landcare groups and Aboriginal Communities.
Aboriginal Action Plan 2020-21
 An Aboriginal Action Plan 2020-21 has been developed aimed at reducing barriers to Landcare and Aboriginal Communities collaborating. The plan highlights actions and outcomes across five (5) key theme areas:
Recognition
Representation & Inclusion
Relationships & Collaboration
Awareness & Education
Resourcing
A Steering Committee meets regularly to oversee the implementation of the 2020/21 Action Plan, and will meet on 18 June to review the actions and outcomes of the 2020/21 Action Plan and make recommendations on the delivery of the "Working Together" program for 2021/22.
---
Aboriginal Protocols Guidelines
A set of Aboriginal Protocols Guidelines has also been developed to assist the Landcare community:
Aboriginal Protocols - Welcome to Country Acknowledgement of Country
Aboriginal Protocols - Tips & Facts
Aboriginal Protocols - Communication
Aboriginal Protocols - Working with Aboriginal People
---
"Working Together" Small Grants Program
The Working Together Small Grants Program closed on 30 April 2021 and has been a huge success! A total of 41 applications were received from all over NSW, with 36 being approved for a total expenditure of nearly $70,000. Of the 36 approved applications, ten (10) were Aboriginal groups and another four (4) were Aboriginal groups being auspiced by a Landcare Group. Those 10 Aboriginal groups will now enjoy the benefits of one year free membership of Landcare NSW, an additional incentive included to attract interest from Aboriginal groups.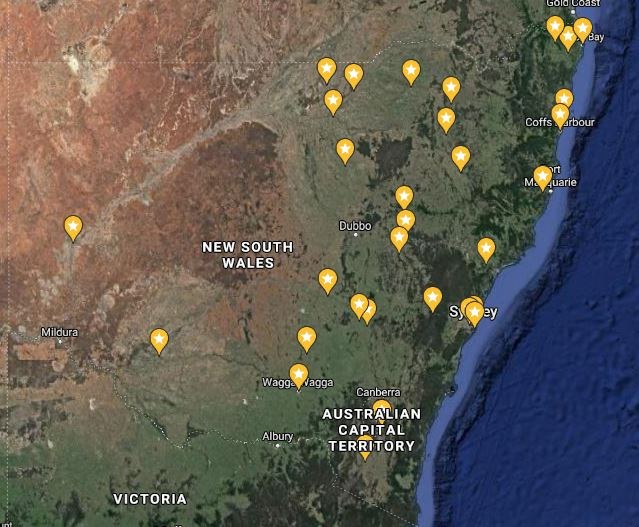 ---
"Working Together" Program Branding 
We proudly acknowledge Jason Ridgeway - a proud Aboriginal artist from the Dunghutti Nation on the NSW Mid North Coast - for the the creation of the artwork we are now using for the "Working Together" logo and branding. Jason is a successful full-time artist who produces stunning artworks on various mediums for a broad range of customers and corporate clients, through both commissioned work and private sales. Jason's work can be found on apparel, signage, murals, corporate branding and even surfboards as you can see in some of the images being shown. His passion is turning ideas and themes into artworks, creating artworks from his personal experiences and telling stories through his artworks. You can check out Jason's work on his Blackboy Creations Facebook and Instagram pages.
---
 "Working Together" Artwork & Story
"The hand print depicts our connection to country. It give us a sense of belonging. There are meeting places depicted with the U shapes as people sitting in a gathering. The dots depict tracks and parts of our land, waterways and river systems. The landscape in the hand represents people watching over the land as a form of protection.
Working as one we will achieve all goals set in place to enjoy a beautiful future and keep our connections strong. If we don't have a connection to country then we don't belong. Our land is precious - if we look after it, it will in return look after us. We as a people need to work together to help heal and look after changes to the land."
---
 "Working Together" Soft Launch 
 A 'Soft Launch' of the "Working Together" program was conducted on Tuesday 10 November 2020. 
The recording of the soft launch can be downloaded here.
A copy of the Launch Presentation can be downloaded here.
---
"You Can't Ask That" Aboriginal Awareness & Protocols Webinar
On 25 November over 40 Landcarers, partners and community members participated in this free educational webinar, inspired and adapted from the very successful ABC television series.
The webinar was presented and facilitated by NSW Landcare's Community Landcare Aboriginal Engagement Officer, Craig Aspinall, and NSW Biodiversity Conservation Trust's Senior Aboriginal Engagement Officer, Kaleana Reyland.
The format required participants to identify their six (6) most pressing questions from a set of 33 pre-prepared questions, with the highest tallied questions given priority for responses from Craig and Kaleana within the two-hour 'webinar' timeframe, which was actually more like live TV! Some light entertainment was also provided in the form of some 'live Aboriginal music trivia' with participants required to 'guess the song'.
A recording of the webinar can be viewed here. NOTE: Due to large file size, please allow up to 5 minutes for the recording to load on your device.
A copy of the written responses for all 33 questions can be downloaded here.
DISCLAIMER: It is important to note that the responses, views and opinions expressed by Craig Aspinall and Kaleana Reyland are their own perspectives, and do not necessarily represent the views of other Aboriginal people.