Reporting for the LLCI
This area provides information on reporting for the Local Landcare Coordinator Initiative.
Six Monthly Reporting 
Six monthly reporting is designed to track progress against delivery of the LLCI contract. The Final Reporting for this program is due by the end of May, 2019.
Part 1: Six Monthly Financial Report - Completed as a form online in reporting section, example of form here
Part 2: Progress and Output Report - Updated December 2018, Part 2 template download here
Part 3: Review of your Annual Work Plan (Initial development and review) Download template here
Reporting Requirements of the LLCI
As part of the Local Landcare Coordinator Initiative there is a required reporting component. This sections outlines what you must complete to meet your reporting obligations and gives some advice on how to complete that reporting.
It is very important that as a program we are able to assess the impacts investment is having and to provide a level of accountability in all the activities of the initiative. Reporting allows performance to be assessed and the achievement of outputs to be identified.
While reporting is often seen as a burden, it is important to recognise it as both a strategic review tool and a really strong communication or promotion tool. If you are proud of what you are achieving then tell the world about it.
The links below will provide more detailed instruction in relation to each reporting requirement.
Annual Reporting
Annual reporting is designed to capture data that showcases achievements by Landcare groups and networks, as well as providing data that helps build the picture of what Landcare looks like and is achieving in NSW.
Annual Reporting has has two major components
Case Studies
Information on how to complete your case studies, and some helpful tips can be found at
and

Annual Report Cards
There are two annual report cards (Report Card 1 and Report Card 2) which collect data on Landcare in NSW, and track changes that are occurring as a result of the LLCI .
More information and access to the Annual Report Cards can be found on the following link
LLCI Annual Plan
Groups are required to develop an annual action plan for their organisation, and to review it six monthly.
This page will guide you on developing and reviewing your LLCI Annual Plan
Resources to assist you with planning were provided at the LLCI induction workshop in March 2016, and have been loaded to the Gateway  - click here to access these resources
Help with your six monthly Reporting
You will only be able to see and submit reports if you have been given appropriate access as part of your Gateway login. If you believe that you should be able to see and submit reports but can't see your agreement then please contact us.
Finding your Agreement
Your agreement should be found in the Reporting folder found under "Local Landcare Coordinator Initiative > Reporting". Generally you will only see one agreement that you have access to unless you have admin rights to more than one.
Updating your Agreement
Once you are viewing the agreement, you will be able to see the main details and progress of report submissions. You can edit the Agreement details by clicking on the green [Edit] button.
You will generally only need to update the agreement details once during the life of the agreement.
Make sure you list all relevant Host Organisations that are covered. There should be at least one.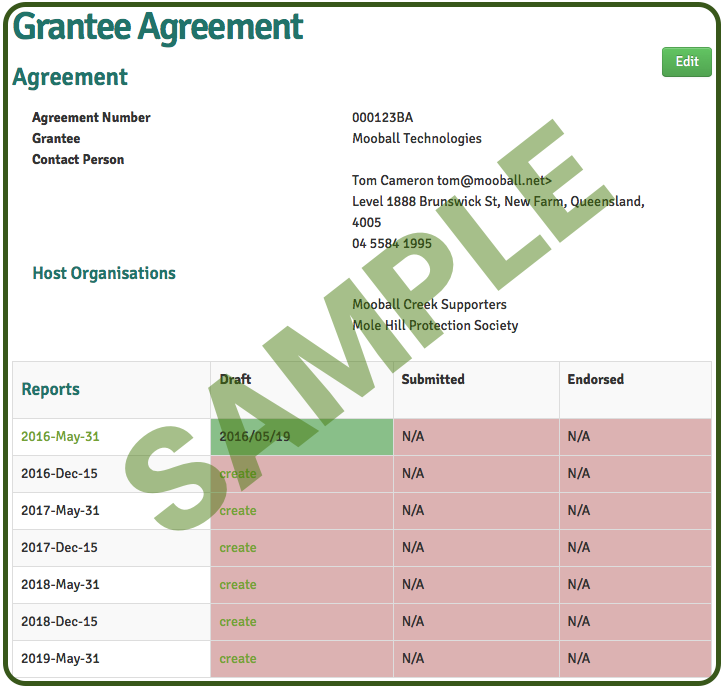 Submitting Reports
Once you have the Agreement updated correctly it is time to submit a report. You will return to this agreement to update each 6 Monthly Report.
To commence a report click on the "create" link next to the correct date. This will create a blank report and take you to edit it. You do not need to complete it in one session - you can return as many times as you like until you are ready to submit it.
Financial Data
First of all, update all the financial information at the top of the report - NOTE: don't forget to press the "Save changes" button at the bottom
Part 2
Then you need to upload the Part 2 (And Annual Plan if this is a May Report) for each of the Host Organisations you nominated in the Agreement.

NOTE: Please make sure that you only upload PDF files
Declaration and submission
You do not need to complete and submit the report on the same session. You can return to the report as often as you like and update the financial data and upload new Host Organisation reports.
Once you are ready to submit the report then you must complete the Declaration details including the Project Manager contact details and tick the declaration checkbox. Finally, press the [Submit for endorsement] button.