Growing Our Future
CHRL's Community Nursery has been operational for many years however the addition of an employed Coordinator has taken it to a new level
Growing Our Future
CHRL's Community Nursery has been operational for many years however the addition of an employed Coordinator has taken it to a new level
Capacity to Deliver
-
LP022-004
The issue
The CHRL Community Nursery has been providing native plant seedlings grown from locally collected seed to our Landcare sites and community for many years. Propagation and nursery maintenance has been carried out by dedicated volunteers. However there has often been a significant knowledge gap amongst the volunteers in correct native plant identification, reliable plant propagation techniques, knowledge about the local environmental conditions and record keeping and reporting requirements. Therefore nursery processes and advice provided to site volunteers and the community have not always been reliable.
The solution
The decision was made by CHRL to employ an experienced Nursery Coordinator to fill the knowledge gap. The Coordinator would attend the nursery on the two mornings it was open each week to provide guidance to the volunteers and ensure the production of good quality seedlings and the smooth operation of the nursery. We applied for funding through the Coffs Harbour City Council's Environmental Levy Small grants program. We were successful in receiving a grant and quickly employed an experienced Nursery Coordinator with  a bush regeneration background.
The impact
The Nursery has gone from strength to strength since the employment of an experienced Nursery Coordinator. The nursery volunteers are well skilled and highly productive, the plants are of a high quality and diversity. Improvements have been made to the nursery and to propagation processes to ensure greater efficiency. Landcare site volunteers and community members are able to access suitable local native plants and accurate information for their revegetation projects. The nursery is also used as an education facility with Community members and students from High School and TAFE having the opportunity to visit and be trained in propagation techniques by the Nursery Coordinator.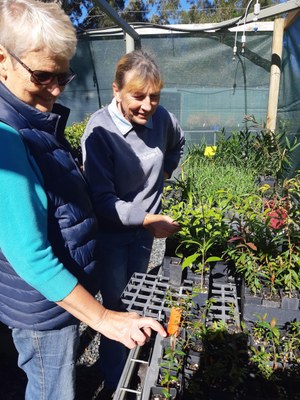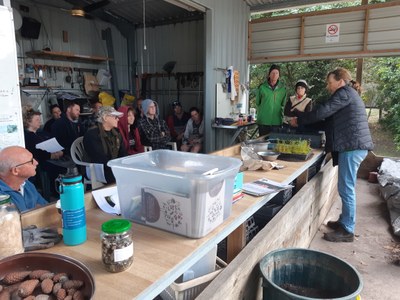 Key facts
Nursery Coordinator employed for last 3 years
1400 volunteer hours in last financial year
Average 10000 plants propagated per year
Clients include Landcare and community members, school & TAFE students, Council, NPWS, contractors
Project Partners