Rainforest rescue
Salvaging seed and cuttings of lowland rainforest to retain species & genetic diversity
Rainforest rescue
Salvaging seed and cuttings of lowland rainforest to retain species & genetic diversity
Community Participation
-
LP-022-036
The issue
The Coffs Harbour Bypass construction has commenced with a significant area of land being impacted by the construction process. In the original construction plan a small but signifcant remnant of Lowland Rainforest of Subtropical Australia which is a Threatened Ecological Community was earmarked for removal. As most of this Rainforest community has been lost from the Coffs Harbour region due to clearing this remnant held important local significance. CHRL became concerned that important species and genetic diversity would be lost forever with the bulldozing of this rainforest remnant.
The solution
CHRL got in contact with Transport NSW and the company who were awarded the Bypass construction contract to gain permission to access the remnant prior to clearing so we could collect seed and cuttings that could be propagated and eventually planted back out in the local landscape to try and retain some of the species and genetic diversity of this Rainforest community that otherwise would have been lost as part of the Bypass construction. Funding was successfully sought through the City of Coffs Harbour Environmental Levy grants to fund the salvage operation and purchase specialist equipment.
The impact
CHRL has for the past few months been collecting seed from the Rainforest remnant as it becomes ripe. The short time frame has made it difficult to get a large range of species as many species have not fruited during the collection period. Cuttings have also been collected from other remnants earmarked for clearing. The seed and cuttings have been propagated at our Community Nursery and some have started to germinate. In a fantastic story of community 'People Power' the rainforest remnant has now been saved with Transport NSW and the construction company agreeing to realign the bypass slightly so no part of the remnant will be cleared. The seedlings and cuttings will be used to plant a buffer around the saved remnant to protect and increase its size.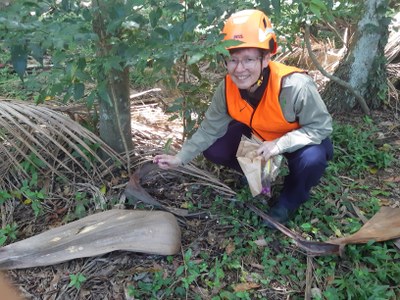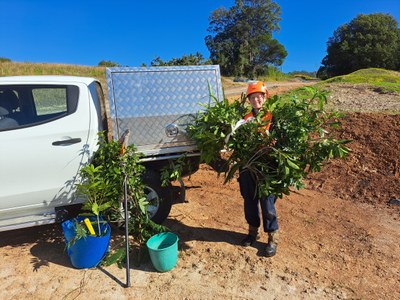 Key facts
Propagation material salvaged from 20+ rainforest species
Species & genetic diversity retained
Significant rainforest saved!
Project Partners