Supporting Community Landcare Action during COVID-19
During 2020 we saw a growth in membership and an increased interest in volunteering
Supporting Community Landcare Action during COVID-19
During 2020 we saw a growth in membership and an increased interest in volunteering
Capacity to Deliver
-
LP022-035
The issue
We all faced some big changes in 2020, with the global pandemic. For Coffs Harbour Regional Landcare (CHRL), the year commenced with fires, staff changes, an office relocation, working from home, along with adapting to the new COVID-19 environment.
Throughout all this CHRL and our volunteers showed to be adaptive to change, highlighting the resilience of our organisation. 
The solution
With their regular activities restricted many people had the opportunity to look over their back fence and take an interest in their local environment. CHRL had the programs in place for this newly found interest of the local community, we were ready and set up to support the formation of these new groups and new volunteers. CHRL was able to provide training, tools and protective clothing to support them. 
In 2020 we had a growth in membership and an increased interest in volunteering, this included:
103 new members sign up
5 new Landcare sites started
4 Landcare sites were extended
449 Mynas were trapped
Adaptive management and communication were essential during the ever changing pandemic environment. COVID-19 changes and NSW government restrictions were regularly updated to our membership. COVID safe business practices were developed and changes to our WHS procedures for volunteers were adopted. 
The impact
Through the pandemic, we have been given the opportunity to recognise what is important. People were forced to look local and realised the importance of their local environment. 
Many volunteers recognise the significance of their volunteer work. Connecting to the natural environment and being involved with local community groups, proved to be a positive outlet. Volunteering in your local environment, with your local community has positive impacts beyond the tangible and rewards for all involved.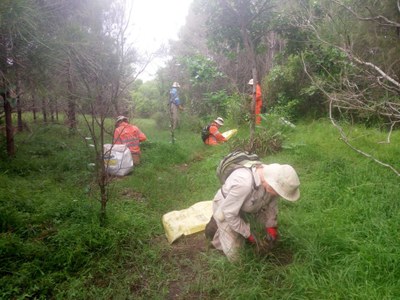 Key facts
103 new members joined
5 new Landcare sites were started
4 Landcare sites were extended
449 Mynas were trapped
Project Partners