Exploring the future of Farm Succession
Be proactive, not reactive
Exploring the future of Farm Succession
Be proactive, not reactive
Collaborations
-
LP017_L006
The issue
The purpose of the Farm Succession Planning workshops was to help people find a starting point in putting a succession plan in place.
Due to high land values, the potential for conflicting expectations among family members and the growing legal complexities, local farmers have many questions and concerns about the process of farm succession planning.
To avoid heartache and angst, as well as legal, taxation and relationship implications, the advice from experts is to start your farm succession planning as early as possible. 
The solution
Holbrook Landcare Network collaborated with Murray Local Land Services, NSW DPI and the Future Drought Fund to attract and deliver two Business Resilience workshops on Farm Succession in May 2022. One in Tumbarumba and another in Culcairn, highlighting succession planning from one generation to the next.
Director and Senior Consultant with Meridian Agriculture, Dr Mike Stephens, guided the participants through a range of scenarios and encouraged lively discussions on how to tackle this important issue.
Mike recommended the conversation of succession planning start earlier, rather than later. Keep discussions open and transparent, and be aware that it will be forever evolving and changing. Especially, when new spouses and children are introduced.
Three aims of family farming succession
funds to enable retirement
a viable farm for the people who want to farm
sufficient resources for the people who do not want to farm
The impact
Overall, forty-two people attended the workshops with an overwhelmingly positive response to Dr Mike Stephens expertise.
Several families have continued the journey of farm succession planning using the directives outlined by Mike Stevens in the workshops.
Feedback from the day was recorded via the digital platform, Slido.com, and many discussions were ignited about the subject and future sessions. The attendees highly recommend Mike Stephens as an advisor for other groups and farmers pursuing this path.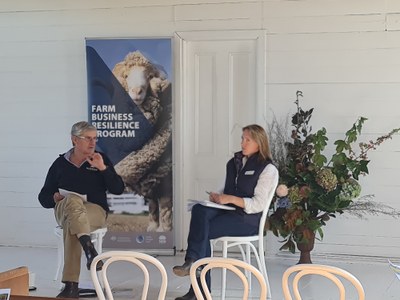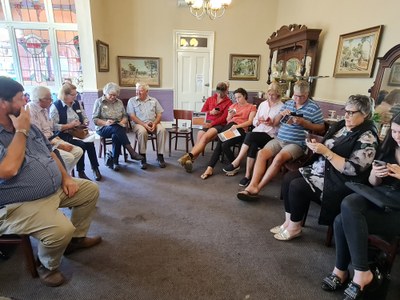 Key facts
Build and maintain relationships
Have open and honest communications with all family members
Understand the needs, wants and aspirations of each family member in each generation
Project Partners