Saving Our Species - Birds on Farms project
Monitoring threatened nectar-lovers on farms in Southern NSW
Saving Our Species - Birds on Farms project
Monitoring threatened nectar-lovers on farms in Southern NSW
Collaborations
-
LP017-R002
The issue
A perennial worry for landcare groups wanting to plan for and drive population recovery of threatened species in their local area is access to reliable, recent and rigorous data.  Some of the first questions asked are - Well what do we know?  What species do we have? Where are they? What can we do to help?  WHERE IS THE DATA? Ummm I think Joe Blogs from over Upper Downhill used to write down what he saw, didn't he mention a Regent honeyeater that time?
When it comes to extremely rare and nomadic bird species that rely on nectar resources, collecting 'good' data is, to put it mildly, difficult. Foraging areas have been massively depleted, with winter feeding areas particularly heavily cleared for agriculture, housing and industry. Then there is the variable frequency, reliability and unpredictability of flowering plants to consider, and the unpredictable movement patterns of nectivorous species. Efforts to monitor visiting species are often highly reactive and avian ecologists can't be everywhere.
The solution
So – how to get many eyes (and ears) out monitoring at least four times per year on private land, recording not just the bird species but also the vegetation species and conditions in a standardised way AND log the data into a central system? Tap into the local landcare communities of course, with a multi-agency collaboration and a 'bird nerd' project officer to share expert knowledge, generate and maintain enthusiasm and do the boring bits.
Through NSW Government's Saving our Species (SOS) Program funding, BirdLife Australia is delivering their successful 'Birds On Farms' program in southern NSW alongside Holbrook Landcare Network, the Foundation for National Parks and Wildlife (FNPWS), the Slopes2Summit Partnership and enlisting Culcairn Landcare Group, West Hume Landcare, Woolshed Thurgoona Landcare, Bungowannah/Splitters Creek Landcare and Corowa District Landcare.
The impact
With a focus on Black-chinned honeyeaters, Dusky woodswallows and the Little lorikeet, the monitoring is well underway following a series of workshops and training days for volunteers and to raise awareness in the broader community. Long-term sites have been established by passionate volunteer observers across 20 properties. As the information flows in it will build the data on occurrence and patterns of resource use and the threats to foraging habitat for the target species as well as other woodland birds. The data will help develop future on-ground  projects and next time some-one asks "where is the data?", we can say "here it is".
To find out more contact Ben Humphries ben.humphries@birdlife.org.au or refer to the BirdLife Australia website https://birdlife.org.au/projects/woodland-birds-for-biodiversity/birds-on-farms-wl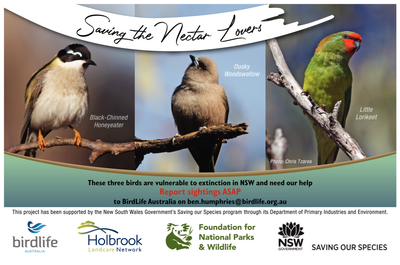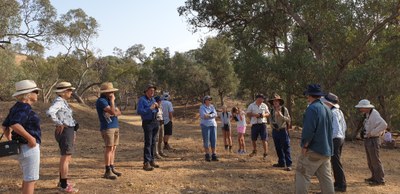 Key facts
More individuals trained in citizen science
20 farms with ongoing monitoring
Surveyed 4 times per year
Centralized BirdLife database
Datasets for future project planning
Migratory woodland birds like Black-chinned honeyeaters, Dusky woodswallows & Little lorikeet
Project Partners