Weaving understanding through words, relationships and sharing skills
to improve our land, water and biodiversity and embed Aboriginal Cultural Values into Landcare
Weaving understanding through words, relationships and sharing skills
to improve our land, water and biodiversity and embed Aboriginal Cultural Values into Landcare
Collaborations
-
LP017-R003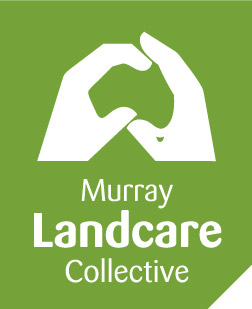 The issue
The "Landcare in a Cultural Landscape" project is a Murray Landcare Collective initiative supported by Murray Local Land Services' Regional Land Partnerships Program (through funding from the Australian Government's National Landcare Program).  See case study NSWLP017_R001 for details.
Landcare groups in the Murray are keen to engage and learn about Indigenous culture and are very lucky to have Yarkuwa Indigenous Knowledge Centre as members of Murray Landcare Collective. During May 2021, two face-to-face workshops were held with NRM and native plants all-rounder, master weaver and story teller Aunty Jeanette Crew and master weaver Liticia Ross from Yarkuwa. The first was with Corowa District Landcare and Corowa Community Gardens and the second at Wirraminna Environmental Education Centre in Burrumbuttock.
The solution
At both events a yarning circle was the focus with Liticia Ross demonstrating weaving, using plants she collected at each site. She discussed various techniques, designs, preparation methods, plant choices and material options and showcased other examples of her art.  Aunty Jeanette Crew very generously shared parts of her life story, including growing up at Moonahcullah, 50 km North west of Deniliquin, her experience in Natural Resource Management informed by Wamba Wamba Perrepa Perrepa culture, working in Government agencies and the Local Aboriginal Land Council. Her strong desire to share Aboriginal culture and Caring for Country was patently clear. 
The conversations were free flowing and included advice on selecting, propagating and harvesting native plants for bush tucker, weaving, tools and a demonstration and how non-indigenous Australians can learn history and culture through listening to elders, reading more and exposing themselves to all forms of culture to help understand and embrace our collaborative future.
The impact
We are all buzzing with ideas and plans for a hands-on weaving workshop using materials harvested at Wirraminna and Corowa as soon as possible. At the next event we will invite local Aboriginal artists and community members.  This model of running similar activities at several sites over successive days was also an efficient way to fit them into busy schedules and to minimise travel. 
Representatives from West Hume Landcare, Holbrook Landcare, Our Native Nursery, Petaurus Education Group, Wirraminna Management Committee, Albury-Wodonga Plant Society, Corowa District Landcare, Corowa Community Gardens, Yarkuwa Indigenous Knowledge Centre Aboriginal Corporation (Yarkuwa) and Murray Local Land Services participated.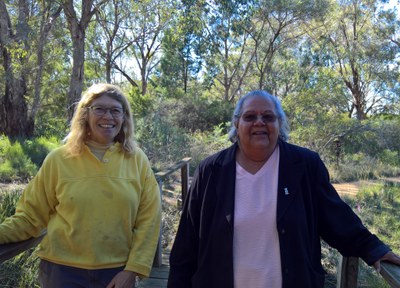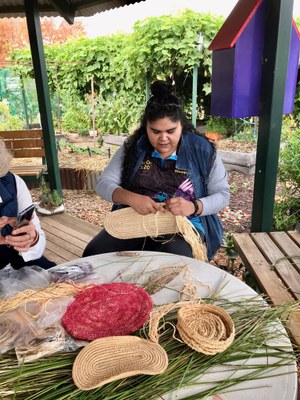 Key facts
June 2021 Aunty Jeanette Crew was awarded a medal of the Order of Australia in this year's Queen's Birthday Honours in acknowledgement for her service to indigenous culture, and to conservation.
Project Partners