The Bushcare Volunteer program provides support for volunteers to conserve habitat for native animals, remove exotic weeds and protect stream banks from erosion.
Eleven Bushcare groups currently operate in Hunters Hill, with approximately 60 active volunteers.
No previous experience is necessary as training is provided by Hunter's Hill Council.
Council supplies
All tools, materials and gloves
Training in Bush regeneration techniques
All that is required is that you wear long trousers, a long sleeved shirt, sturdy shoes and a hat.
Corporate Conservation volunteers dedicate 2 days annually for bush regeneration work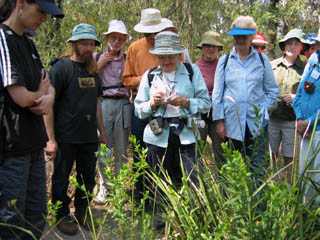 A group identifying native plants
Projects
Corporate Social Responsibility has become a real focus for many businesses
Download group KML