National Tree Day 2022, Lake Cargelligo
Students from Lake Cargelligo Pre-School and St Francis Xavier's Primary School increase their tree cover yet again
National Tree Day 2022, Lake Cargelligo
Students from Lake Cargelligo Pre-School and St Francis Xavier's Primary School increase their tree cover yet again
Community Participation
-
LP049-006
The issue
As part of National Tree Day, both Lake Cargelligo Pre-School and St Francis Xavier's Primary School got busy and pulled on their gloves to enhance their local environments with local trees and shrubs. At the Pre-School, glove fitting and attachment took about the same time as planting the trees, but it was all in good fun.
The solution
The trees and shrubs were kindly provided by the Lake Cowal Foundation, but the hard work was all done by local kids. Special thanks are due to the Year 5/6 class at St Francis Xavier's School, who supervised and helped the younger students dig holes and water in the plants. The northern and southern boundaries of the playground at St Francis each received eight or nine new trees each, and the front yard of the Pre-School was planted with shrubs.
The impact
Students from the Pre-School had a ball pulling on their gloves, filling their watering cans and digging in the soft, loamy soil. Students from St Francis - who were older - made decisions regarding the placement of melaleucas, banksias and taller eucalypts and acacias. Most importantly, everybody had a great time getting out in the sunshine on a perfect mid-winter day.
Learnings
National Tree Day is a perfect initiative for involving pre-school and primary school-age students in environmental education, and will likely be repeated annually at Lake Cargelligo.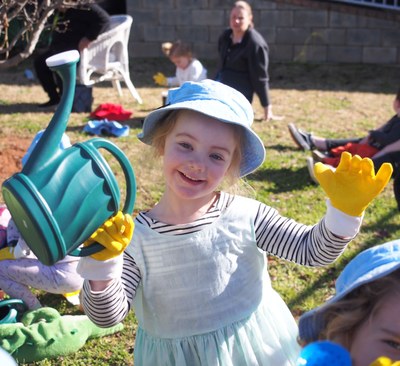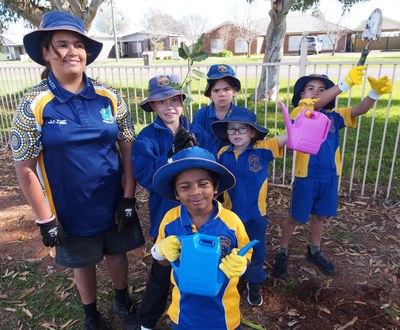 Key facts
Students from Lake Cargelligo Pre-School decorated the front yard with extra shrubs.
Students from St Francis Xavier's School planted the boundaries of their playground with trees and shrubs.
Everybody had a great time enhancing their local environment.