School students get their hands dirty for 2021 National Tree Planting Day
School students from Lake Cargelligo and surrounds play their role in conserving Australia's diminishing biodiversity
School students get their hands dirty for 2021 National Tree Planting Day
School students from Lake Cargelligo and surrounds play their role in conserving Australia's diminishing biodiversity
Community Participation
-
LP049-003
The issue
In line with Planet Ark's 25th Annual National Tree Planting Day, students from St Francis Xavier Primary School and Euabalong West Primary School came together to play their part to help conserve Australia's biodiversity. Many native flora and fauna species of Australia have been declining in numbers, mostly due to habitat destruction (fragmentation), alteration of our waterways, and increases in exotic species. It was decided that planting different native trees and shrubs on the school grounds would help increase numbers of native birds, bees, and other important insects. 
The solution
Approximately 50 native plant seedlings were planted at numerous locations on the school grounds. To kickstart the afternoon, St Francis' Principal, Mrs Elwin and the Local Landcare Coordinator briefed students on the importance of the day, and the correct way to successfully plant the seedlings. With both schools combined, over 55 students rolled up their sleeves (along with teachers and the Local Landcare Coordinator) to plant. Numerous taller trees/medium-sized shrubs were planted along the perimeter of the grounds, with smaller shrubs placed in
adjoining garden beds. Much needed weeding of these garden beds, as well as general pruning and rubbish removal also took place. With respect to resources, St Francis Xavier provided all the tools, gloves, and watering cans, whilst the Lake Cowal Foundation generously sourced the plants.
The impact
Students not only made a significant environmental contribution to their school on the day, but through getting outdoors they were able to get closer to nature, with many laughs and bonds formed between students, staff and the local coordinator. The plantings, along with the general clean-up and pruning, enhanced the already aesthetically pleasing school grounds. One of the teachers recorded the students' efforts on the Planet Ark official tree planting site, ensuring the total plantings since the Day's inception in 1996 (over 26 million trees planted), was added to. Because of this day, students and teachers will reap the rewards of their efforts, as they see increases in native insects/bugs etc, and watch the plants grow in years to come. Children have a huge role to play in protecting the world's biodiversity, now and in the future, and to hear numerous elementary kids say 'they want to work for Landcare when they grow up', was extremely satisfying.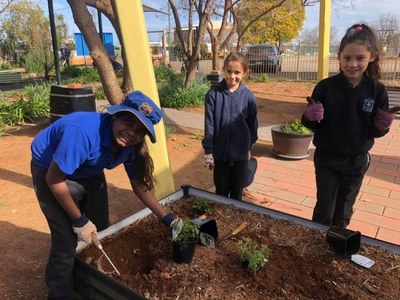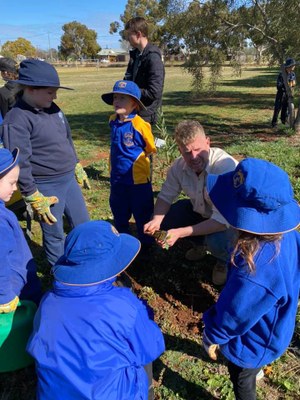 Key facts
Students from St Francis Xavier Primary School and Euabalong West Primary join in Plant Ark's 25th National Tree Day
Approx 50 native trees/shrubs were planted around the grounds of St. Francis Xavier Primary School
More than 55 students, staff and the Local Landcare Coordinator took part
Students came away feeling more connected with nature
Project Partners