North Sydney's Bushcare volunteers play an important role in bushland conservation and in improving the natural environment
Volunteering
Volunteers are rehabilitating publicly owned natural bushland. North Sydney has an active Bushcare program of approximately 150 volunteers working in 12 groups around the reserves.
You too can get involved in a bush regeneration group, keep your eyes peeled for wildlife with Wildlife Watch, propagate native plants, create a Native Haven and install a nesting box.
The benefits of being a Bushcare volunteer:
great outdoor working environment,
healthy, active and fun activities,
meet like-minded people and enjoy relaxed social events,
lots of training opportunities, a variety of expert-run workshops, plus guided bushwalks,
a sense of personal achievement through community involvement.
Volunteers and other interested members of the community can receive our quarterly Bushcare Newsletter.
How do I get involved?
There are currently 12 Bushcare groups who meet weekly, bi-monthly or monthly around the North Sydney area (see the map below).
All of the Bushcare groups would love to have YOU join them!
A qualified Supervisor is present at all group sessions and provides: on-site training, gloves, tools and morning tea. You will need to bring: sturdy non-slip shoes, long sleeves, pants/trousers, a hat, and water to drink.
For further details about involvement in the Bushcare Program, your rights and responsibilities please see Bushcare Program Guidelines (linked below).
Enquiries: Bushcare Officer on 9936 8258 or email: council@northsydney.nsw.gov.au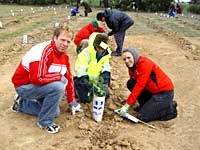 Projects
Volunteers have been taking the Bushcare bus to Boorowa since 2000! These enthusiastic workers join our Bushcare team to revegetate degraded farmland, alongside our partners Boorowa Community Landcare Group (BCLG).
Download group KML