Adopting New Ideas
Landholders coming together to research new ideas and improve Natural Resource Management on farm
Adopting New Ideas
Landholders coming together to research new ideas and improve Natural Resource Management on farm
Showing the Difference
-
LLCI022-001
The issue
The Pallal Landcare Group approached Northern Slopes Landcare Association, with the idea of exploring alternate approaches to traditional agriculture with other landholders in the Gwydir Shire region in North West New South Wales.  The group wanted to focus on biological, organic and biodynamic approaches and exploring alternative solutions to conserving and protecting biological diversity on-farm.
Regional issues which we hoped to address with the project included soil salinity, localised climatic changes and variability and their threat to landscape productivity and viability, grazing pressure, and land clearing.
The solution
NSLA were successful in obtaining funding through the Australian Government's 25th Anniversary Landcare Grants which enabled us to run several workshops and field days aimed at meeting the Pallal Landcare Group's requirements.  These included the following:
Geoff Bassett -  Managing your property & soils through biological and organic methods
Colin Seis Pasture Cropping - Enabling annual crops to be sown directly into perennial pastures
Glenn Morris - Glenn is an Organic Farmer and a finalist in the 2016 Bob Hawke Award for Individual excellence in Sustainable Agriculture.
Regen Ag Course - 3 day Biofertiliser course showing how to brew microbes utilising everyday materials to increase production on farm, at the same time reducing synthetic inputs
Rangarai Field Trip - Matt and Mel Carter have made the change from traditional farming practices to Organic Farming. The day included a farm tour and Q&A Session relating to Organic Farming, Certification, Meat markets, chemical use, farm practices and health benefits.
The impact
These workshops and field trips engaged 252 landholders overall events, providing the opportunity for education leading towards practice change over a total area of over 83,000 hectares of agricultural land.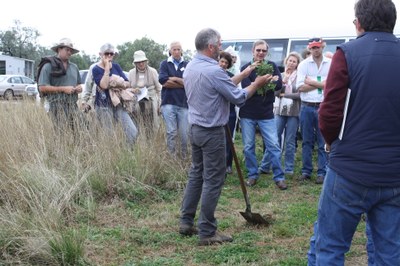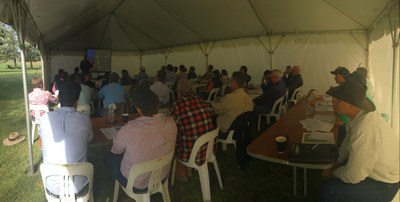 Key facts
Practice change achieved over a total of 83,000 hectares.
252 Landholders engaged in improving Natural Resource Management on farm.
An increase in Soil Health.
An increasing thirst for knowledge among landholders of Biological Farming Methods.
Project Partners