Bundilla Scout Planting Day
A Treemendous day for Bundilla Scouts
Bundilla Scout Planting Day
A Treemendous day for Bundilla Scouts
Making a Difference
-
LLCI013-001

The issue
Shaun Lesslie, the Hills District Venturer Scout Leader at the Bundilla Regional Scout Camp, had an idea to set up the Bundilla Scout camp as a centre for focusing on the environment. He had approached Council, however as it was not on Council land, they were unable to help. They had a group of scouts ready and waiting to kick off the program but no skills, knowledge or tools.
The solution
Between my contacts at Council and the Greater Sydney Landcare Network, I arranged a number of speakers for the day, borrowed some tools from a local Bushcare group and sourced funding for some plants.
Venturer Scouts from around NSW then converged on Bundilla Scout Camp Winston Hills over the weekend of September 10-11, 2016 for the first of many weekends restoring the riparian zone around Toongabbie Creek. The Scouts learnt about the local ecosystem, which includes several endangered communities, how the creek connects to the Parramatta River, native fauna and how to plant habitat islands for small native birds.
The impact
An area of very overgrown and weed infested bush (alongside Toongabbie Creek) was weeded. Some nearby areas were planted using the habitat creation methodology following a workshop by Bev Debrincat (Greater Sydney Landcare Network). 3 x 10 square meter plots were planted. Privet and asparagus fern were removed from a 500 square meter area.
This is the first of many groups who will be focusing on weed removal and native species replanting along Toongabbie Creek. We also tested the water quality and hope to have this whole area transformed within ten years. Subsequent events have been planned and held whereby the focus is on clearing one or two species over a larger area.
http://hillstohawkesbury.com.au/treemendous-day-venturer-scouts-around-nsw-bundilla-scout-camp-winston-hills/
Learnings
One of the local scouts from 1st Winston Hills Venturer Scouts, Sean Turner, who attended the weekend said "The best thing about the weekend was putting into practice want we learnt from Bev Debrincat (Greater Sydney Landcare Network) about how to plant habitat islands for small birds which also benefit a large number of other species like lizards. Creating new homes and new life was excellent and felt like I was really learning how to give back to the community."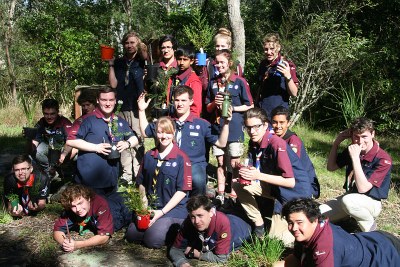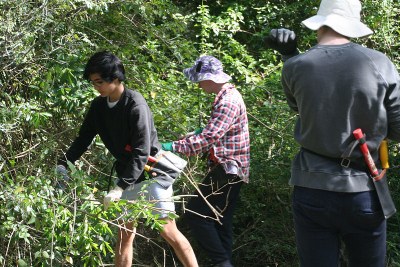 Key facts
An ongoing site for weeding and regeneration for years to come.
Local media ran a story about the day.
The single site will host a different group each time.
Project Partners