Launch of the Parramatta River Masterplan
Launch of the Parramatta River Masterplan
Local Links - Stronger Communities
-
LLCI003-011

The issue
The Parramatta River Catchment Group has had the immense task of developing a strategic approach to managing the health of the river into the future. One important component of that (and the core role of the LLCI is to deliver the Step 7 and 8 of the plan).
You can see the challenge here.
After a 5 year program to bring together a Masterplan for the Parramatta River, the milestone needed to be celebrated to thank and encourage member groups and key stakeholders for their commitment and hard work.
The solution
A summary of the entire project is here.
Over 250 invitations were sent to community and local and state government organisations. Approximately 150 attendees were present on the day despite wet and inclement weather and a last minute venue change. The 4 PRCG community representatives were in attendance and volunteers from all over the catchment assisted on the day.
Attendees from the International RiverSymposium which was being held in Sydney at the same time were also invited to the event.

Community volunteers, Presenter Costa Georgiadis and performers like Junkyard Beats and Circus Solarus actors in swimming costumes made the event a vibrant and exciting event to celebrate such a big milestone for the PRCG.
Our Living River branded cupcakes were handed out and a coffee van served coffee before and after the event.
Videography and Photography was taken on the day and used to post to social media, for press shots and also the Annual Report.  
Community members were given roles centre stage and official guests provided detail on the launch of 3 new swimsites to be opened in 2025.
The impact
To ensure the ongoing support of members, community groups and agencies, a launch was held on 18 October 2018. You can see the highlights of the event here.
Press attended the event from ABC and Channel 7 attended the event and the evening news of every free to air station mentioned the story in their news headlines.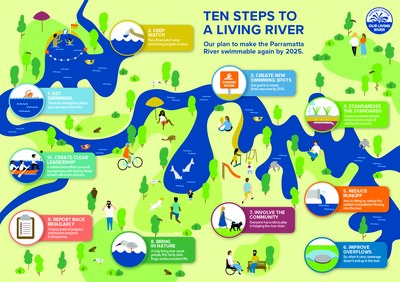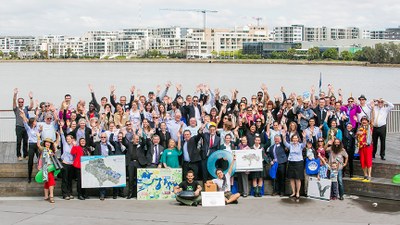 Key facts
The masterplan brings over 35 partner agencies and 15,000 community members' vision together to make the Parramatta River Swimmable by 2025.
Project Partners