Araluen Creek Restoration Project - Facts
Here are some interesting facts about what was achieved over the course of the Project.
Voluntary hours committed to planning, meetings, reporting, and delivery of the project through to revegetation of remediated sites: Estimated at over 1,500 hours.
Six educational workshops were conducted on Saturdays for the Araluen and broader community, in summary:

26 February 2022 – Geology of Araluen Workshop – 30 attended.
28 May 2022 – Soil Erosion Workshop – 15 attended.
25 June 2022 – Apical Weeds Workshop – 25 attended.
27 August 2022 – Riparian Workshop - 25 attended.
3 September 2022 – Seed Collection and Propagation Workshop – 17 attended.
25 February 2023 - Apical Weeds Workshop #2 – 25 attended.
Project coordination, landholder liaison and facilitation of key deliverables: 700 hours.
Revegetation of remediated sites with 1500 endemic native species. USLC and UDCLG committed to support and manage 3 community planting days, local plant nursery expert assisted with the selection of planting lists.
3 major planting days with over 20 volunteers attending all local folk and helpers from afar. A great day was held with the Braidwood home-schoolers group.
Materials required for the remediation of identified sites:

460 tonnes of large rocks.
29 truckloads of root balls.
32 x 6 metre hardwood logs.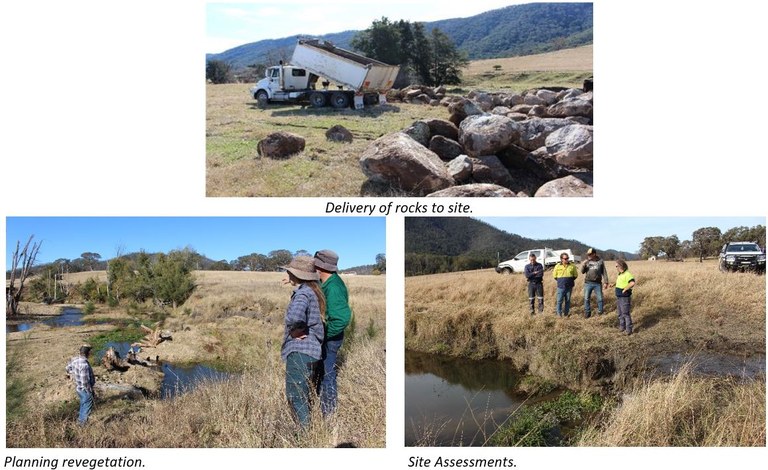 This is an exert from the Araluen Creek Restoration Project 2021-2023 Report compiled and prepared by Cath Harrison, UDCLG Project Community Liaison Officer. The full report can be found HERE.

 This is a Bushfire Community Recovery and Resilience Fund project through the joint Commonwealth/State Disaster Recovery Funding Arrangement