Farm Expansion Workshop
Building skills and knowledge to make informed decisions about farm expansion opportunities
Farm Expansion Workshop
Building skills and knowledge to make informed decisions about farm expansion opportunities
Capacity to Deliver
-
LP021- 013
The issue
Our region is going through an influx of younger people (25-35 y/o) returning to family farms for succession purposes and purchasing new farmland.
It was identified that a workshop of this kind could arm these farmers along with their parents with the necessary information and skills to assess farm expansion opportunities as they arise.
The solution
WMLIG engaged John Francis from Agrista to present a 1-day workshop on farm expansion. John presented an informative and engaging workshop covering perceptions of value, scale and the difference it makes, leveraging debt to create wealth and how to be a low-cost borrower. Participants were also provided with useful spreadsheet tools to aid in assessing expansion opportunities.
The workshop was resourced via funding from the Murray-Darling Basin Economic Development Program and a co-contribution from participating farm businesses.
The impact
The workshop gave participants the skills to objectively evaluate the value of farmland for their type of business. This was based on working out total business return along with partial budgets. John addressed the importance of scale and maximising on-farm returns through internal investment. There was also much discussion around rising farmland values and leveraging wealth to create more wealth.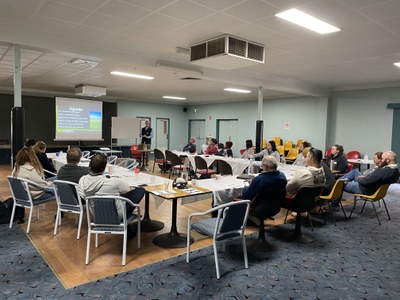 Key facts
14 businesses participated. All were from within the Wakool Footprint.
Positive feedback captured in post event surveys indicate the workshop was a success.
Social networking opportunities throughout the day provided a chance for friendly and informal chat and further discussion of business expansion opportunities.
Project Partners