Griffith Industry Tour
Tour of Griffith Agricultural and Agri-Tourism Industry area
Griffith Industry Tour
Tour of Griffith Agricultural and Agri-Tourism Industry area
Capacity to Deliver
-
LP021-005
The issue
The Griffith Industry Tour was held as part of the Wakool Agri Innovation Program - funded by the Australian Government under the Murray Darling Basin Economic Development Program.
The tour targeted members of the Wakool irrigation district footprint, an area adversely affected by water reform and drought.
We aimed to develop a tour that would inspire and evoke new ideas by showcasing what others have successfully achieved in the agricultural and agri-tourism industries, encouraging Wakool and surrounding district businesses and landholders to explore new opportunities in areas including supply chain, value adding, new markets, collaboration, diversification and utilising spare capacity.
The solution
The tour began with a visit to the amazing 'Naturally Dried Prunes' in Yenda, and was followed by a delicious lunch dining on fresh local produce at 'Limone Dining' in Griffith.
We then headed to the amazing Whitton development precinct and spent the afternoon in awe of what has been developed at this site. Firstly we visited the Murray Cod Australia ponds where fresh water cod are sold under the name 'Aquna Murray Cod'. This was followed by an insightful tour of the impressive Southern Cotton Gin. We then toured Voyager Craft Malt and learnt all about their exciting production and we finished up the evening by feasting on delicious local produce and drinks at the incredible Whitton Malt House.
The next day we visited the inspiring Coleambally Community Farm - a 379 ha not-for-profit working demonstration farm putting benefits directly back into the community, and we also visited John Gorman from AMPAN and learnt all about his journey in producing panel boards from locally sourced rice straw.
The impact
13 participants attended the tour - 7 from the immediate Wakool irrigation district and 6 from surrounding areas.
The 8 businesses we visited were unique and diverse, all beginning with one idea and expanding following opportunities to diversify - leading them to the success they enjoy today. Their stories were refreshing and inspiring and showcased what can be done by thinking 'outside the square'. The aim of the tour was to enable this inspiration to filter through to participants and get them thinking about different ways they could adapt or diversify, explore new markets and new ways to succeed during these ever challenging times.
Another aim was to explore and enable collaborative thinking. The businesses we toured all had one thing in common - collaboration. Allowing honest communications between businesses, and producers working together to achieve common goals strengthens these businesses and enables more pathways to success, and showcasing this in our tour was another positive impact.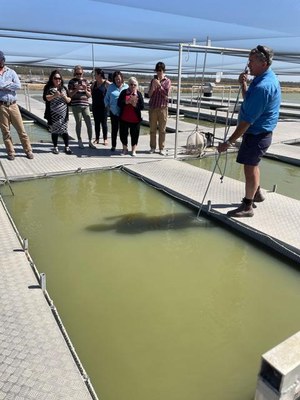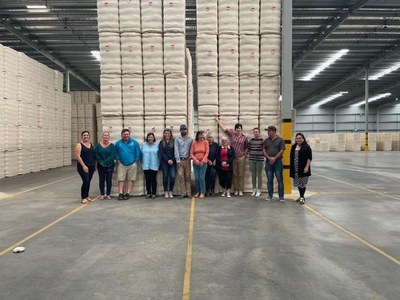 Key facts
8 Businesses hosted our tour group
13 participants attended
9 hours of tours and learnings took place
640km round trip
Project Partners