Yass Habitat Linkages
On-ground action increases productivity and biodiversity
Yass Habitat Linkages
On-ground action increases productivity and biodiversity
Collaborations
The issue
Connecting fragmented vegetation across the Murrumbateman, Jerrawa, Bowning and Mundoonan Nature Reserve is the focus of this Yass Habitat Linkages (YHL) project.  The project will enhance biodiversity and create new wildlife habitat as well as improving agricultural productivity. 
The solution
The YHL project, a ten-year project which commenced in 2016, is providing support for landholders to create connections across our landscape through the planting or direct seeding of tree lanes and paddock tree stepping stones.  Connecting native remnants increases habitat for plants and animals and improves livestock and farm management.
YHL is funded by a grant from the NSW Environmental Trust with landholders matching contributions in cash or in-kind.  The project is managed through a partnership between Yass Area Network of Landcare Groups and Greening Australia, which undertakes most of the on-ground work.   Other partners include the Australian River Restoration Centre, Land for Wildlife, South-east Local Land Services and the Yass Valley Council.
The impact
Progress has been good - by early 2020, 40 landholders had signed on with nearly 20,000 native tube stock planted and 100km of direct seeding sown on 33 sites.  3600ha have been protected with some 40 conservation agreements in place and 30 Land for Wildlife assessments made.  Nearly 300 volunteers have been involved. 
Community awareness is an important aim of the project and has been achieved through workshops, field days and training programs.  On-ground progress is being monitored using photographic records, landholder reports and vegetation mapping.  After four years, serious vegetation growth on planted sites is becoming apparent.  
Learnings
So many good projects are forgotten once they finish so a number of short case studies are being prepared, the first one was completed in 2020.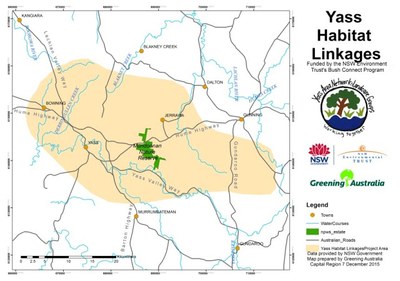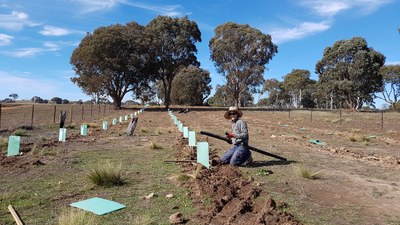 Key facts
40 participating landholders;
20,000 native tubestock planted;
100km of direct seeding on 33 sites;
3600ha protected via 40 conservation agreements;
30 Land for Wildlife assessment made;
300 volunteers involved.
Project Partners