Stepping Stones in Millthorpe
Milthorpe Public School working with Landcare
Stepping Stones in Millthorpe
Milthorpe Public School working with Landcare
Local Links - Stronger Communities
-
LLCI001-014
The issue
Central Tablelands Landcare Group were successful in a bid to revegetate 20 hectares of previously cleared farm land in our region.  Part of this project was to engage landholders and other interested parties in the process, to increase community awareness of the problems caused by overclearing, and educate about the process of identifying suitable species for re introduction, seed collection, propagation, site preparation, planting techniques and ongoing site management.  
The solution
Millthorpe Public School expressed an interest in helping a local landholder to plant the 400 native plants allocated to his Stepping Stones site near the village of Millthorpe. On the 25th May 2017 3 teachers and 80 school children attended a tree planting day on the landholders property.  Our Local Landcare Co-ordinator introduced the day with an explanation about why we were revegetating, what species we were planting, where and why.  There were lots of questions and the children were very engaged. 
The School, Landcare, and the landholders worked together to provide all the equipment, snacks and a BBQ lunch, and successfully planted 420 trees and shrubs. 
The impact
80 children were very engaged by the process of preparing tree guards, digging holes, placing the plants in the holes, installing weed mats, hitting in the posts to hold the tree guards in place, and watering.  We were lucky to have a beautiful sunny day and the variety of tasks meant everyone was happy to help all day.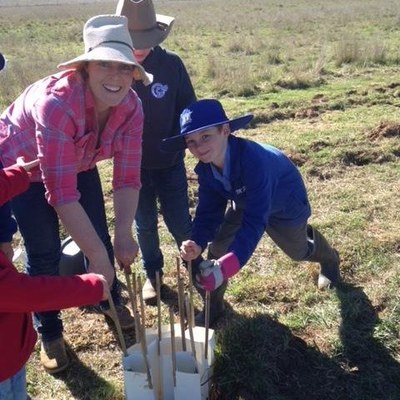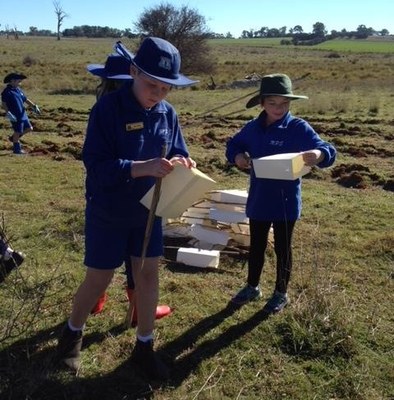 Key facts
Community events create friendships and memories
Many hands make light work
School children can successfully plant trees
Having discreet tasks helps when organising large groups of children
Project Partners