Making Quality Silage
Making Quality Silage - a district issue
Making Quality Silage
Making Quality Silage - a district issue
Capacity to Deliver
-
LP017-002
The issue
A knowledge gap within the region had been identified by Holbrook Landcare, Culcairn Landcare and West Hume Landcare for best practice silage making. Feed test results revealed the nutrient content of locally produced silage was not always consistent with the expectation of producers. They wanted to know what changes could be made to their silage making process that would ensure that the end product would meet the nutritional requirements of their livestock, being at various growth rates and reproductive stages.
The solution
With support from Holbrook Landcare's Local Landcare coordinator the groups were able to address this issue together, hosting a one day intensive training program for producers to increase their knowledge and skill in quality silage production, delivered by John Piltz, NSW DPI, Wagga. This specially designed one day short course focused on making quality silage and covered topics such as fermentation, inoculants, harvesting processes, storage principles, feeding out and silage testing.
The impact
Support from the LLC enabled 3 groups to engage and find a solution to a shared knowledge gap within the region. Landholders who attended the training day were able to address specific problems through the interactive nature of the program. Addressing the whole process of silage making, from when to cut through to feed testing the end product enabled producers to identify which part of their own process wasnt effective. Ensuring the optimal nutritional content and palatability of silage for livestock when its needed during dry times as well as meeting the nutritional requirements of animals at various growth and reproductive stages, provides producers with confidence in their process and enables drought proofing of their management system.
Learnings
This field day was an excellent example in the benefit of community support and engagement to address a specific need within the region. The outcome of increasing knowledge and skills of landholders to support their livestock decision making during dry times is equally as important as giving landholders a chance to connect around a shared topic of interest.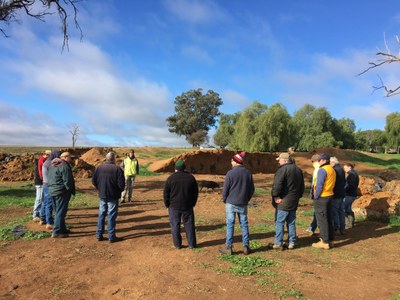 Key facts
Three landcare groups identified a regional knowledge gap in the process of making quality silage.
The groups were able to address this issue together and provide a training opportunity for landholders.
The outcome for producers is an increase in knowledge and skill, increase silage production efficiency and another resource to drought proof their management system.
Project Partners