On Saturday 9 September 2023, Upper Deua Catchment Landcare group and the Araluen Community celebrated the completion of the Araluen Creek Restoration Project 2021-2023. This special 'red carpet' event at the Araluen Federal Hall featured the 'world premiere' of the short documentary film made by local award-winning documentary filmmaker Clare Young and her team.
It was a wonderful event - with afternoon tea, a commemorative cake and 52 attendees in all, including special guests Turlough Guerin, CEO of Landcare NSW, Steve Whan, MP for Monaro and Queanbeyan-Palerang Reginal Council mayor Kenrick Winchester, General Manger Rebecca Ryan, and Councillor Katrina Willis. Thank you all for coming and we hope you enjoy watching and re-watching the film!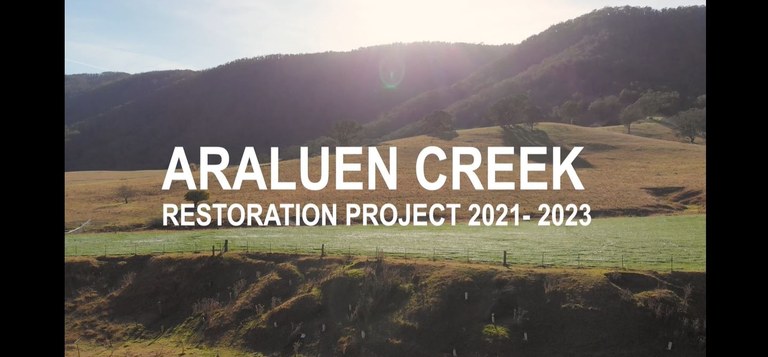 The film is produced by local award-winning documentary filmmaker Clare Young and her team and captures the local Araluen community connecting up to oversee a big project to stabilise the Araluen Creek – a shared environmental resource – that is the lifeblood of the Valley. At its heart the video tells the story of how local communities can work together to bring about positive change to build community and environmental resilience in the face of a changing climate.
Working Together to Build Resilience 
Join us to Restore, Revegetate or Regenerate


 This is a Bushfire Community Recovery and Resilience Fund project through the joint Commonwealth/State Disaster Recovery Funding Arrangement
About the Upper Deua Catchment Landcare Group
The Upper Deua Catchment Landcare Group Inc. was formed in 1996. The group started out with the purchase of aerial photographs of the area from Mericumbene in the south, to the Majors Creek escarpment in the upper reaches of the Araluen Valley. Our purpose was to identify areas of erosion, weed infestations and rectifying water quality issues. The Araluen Valley was extremely disturbed with the discovery of gold in 1851. Dredges worked the area for many decades, turning the valley over in search of fortune, leaving behind an environmental disaster.
In the past 27 years the group has been extremely active and successfully undertaken a series of major projects to repair damage with outstanding results. Members have efficiently managed these community projects utilising funding from a variety of sources.
In 2007 the group was awarded the Champion of the Catchment in recognition of outstanding results achieved in stabilization of the creek bed. A system of bedlog constructions (sills) utilizing 200 logs at 16 sites were strategically positioned and anchored in place - slowing the flow, creating in stream ponding, increasing biodiversity and improving water quality and quantity.
Upper Deua Catchment Landcare Group Major Projects 1996 – current:
Araluen Creek Streambed Controls 1998-2004
Araluen Creek Streambed Controls Extension – Site 16 2004-2010
Bridge to Bridge Weed Project Commenced in 2013
The UDCLG mission for riparian restoration:
Stabilise the creek stream bed by controlling sediment movement
Reduce erosion pressures on the streambed and banks by removing debris blockages that divert the stream
Improve water quality, environmental health of the stream and increase ponding within the system
Improve biodiversity including increase of fish passage and native water-based plants
Reduce riparian weeds especially woody exotics including broom, blackberry, privet, seeding willows and the more recent invaders; St John's Wort, African lovegrass and Madera Vine.
Revegetate and regenerate degraded locations
This area was badly impacted in the Black Summer Bushfires leaving a trail of destruction through the local environment. Post fire the environmental damage was pure devastation. With many significant flooding events to follow, we had a huge challenge ahead, hence the importance of the latest Araluen Creek Restoration Project.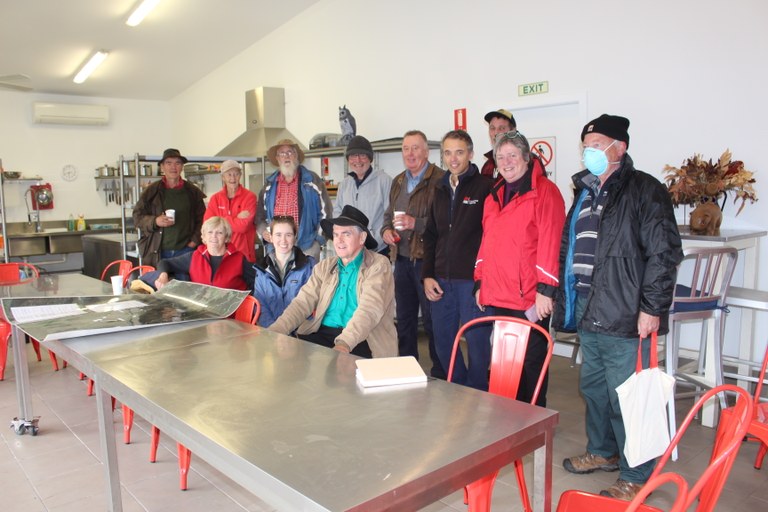 Upper Deua Catchment Landcare Group members and workshop participants in May 2022. Photo C Harrison
Current UDCLG Executive:
President: Tony Peters  antipeters@gmail.com
Secretary: Penny Hayman  phhayman@gmail.com
Treasurer: Robyn Clubb  clubbr@yahoo.com
Vice President: Helen Waddell
Araluen Creek Restoration Project & Re-vegetation Information
Cath Harrison  cathharri@gmail.com
Membership
Upper Deua Catchment Landcare Group Inc membership is $2 annually or $5 for 3 years. Contact Treasurer, Robyn Clubb to apply.
Acknowldgement of Country
The Upper Deua Catchment Landcare Group Inc. would like to acknowledge the land we live and work on, the Country of the Dhurga Language Group known as Yuin.  We acknowledge the traditional owners and original Landcarers, and pay our respects to elder's past, present and emerging, as well as the first nations people, culture and values that have nurtured this land for thousands of years.  We hope to continue to learn and support this practice.
Download group KML